workshop and retreat offerings: This page gives general information on what kinds of workshops and retreats we typically offer; how often we offer them; and where your donations go. Scroll on for details of specific upcoming workshops.
EROTIC WRITING, APRIL 11, 3P MST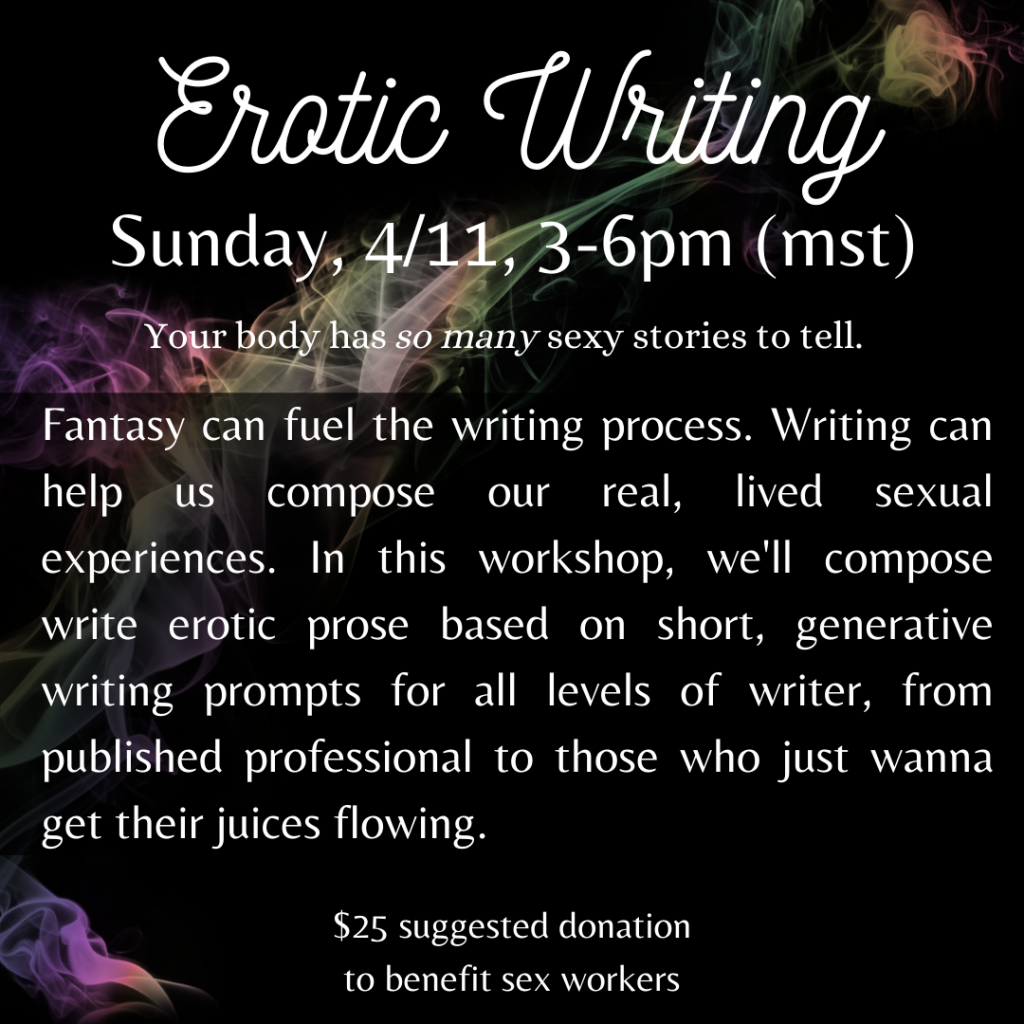 COMPOSING THE SEXUAL SELF: Fantasy can fuel the writing process. Writing can help us compose our real, lived sexual experiences. In this workshop, we'll compose erotic prose based on short, generative writing prompts for all-levels of writer, from published professional to those who just wanna get those juices flowing. We'll save time at the end to share in a casual open mic.
YEARLY, IN FEBRUARY:
INTIMACY SALONS: ENGAGING DESIRE THROUGH EROTICA,
FEB. 11, 7P MST
From host, Susan Coates: "Indulge this Valentine's Day in an evening of Erotica! Prepare some yummy nibbles and libations in your pajamas and connect with other lovely creatures in the comfort of your own home as we discuss erotica with special guest, author/teacher Stina French. Includes readings and co-facilitated erotic writing exercises for yourself or you and your lover(s) inspired by some of your juiciest core desires.
Great solo date night and great for couples who want to connect around the topic! We'll do some connection games with opportunities for small group connection to warm us up around the topic together, discuss how erotica touches us, and engage in facilitated, self-made erotica writing!
This event is a gift to you! Share widely with your loved ones! PLEASE PRE-REGISTER NOW FOR THIS EVENT AT THE BELOW LINK. YOU WILL NOT BE ABLE TO ENTER THE EVENT WITHOUT REGISTERING. REGISTRATION WILL CLOSE 2 HOURS BEFORE THE EVENT. After registering, you will receive a confirmation email containing information about joining the meeting.
Register in advance for this meeting:
https://us02web.zoom.us/…/tZ0vduytpzwiHdD7fQwEzCQh…"
Click here to visit Susan Coates's website, where you can book her for private coaching!
FORMER WORKSHOPS
SITE/SIGHT/CITE: AN IMAGE + TEXT WORKSHOP, MARCH 21, 3-6P MST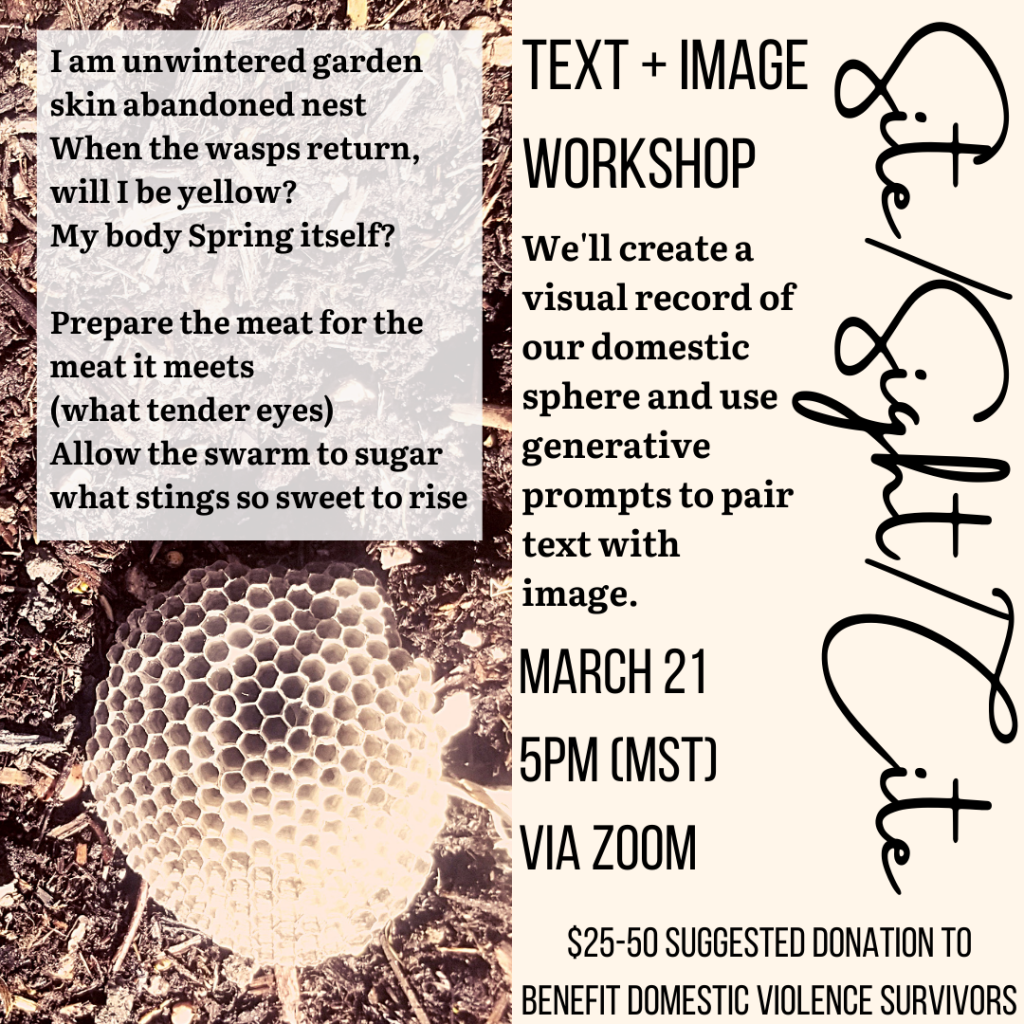 Hoping you can join us for this visual + textual workshop. March 21st, 5pm (mst) via Zoom. We've been quarantined for a year now. How has your relationship with your domestic space changed? How might you use images of your home and immediate environs to textually investigate the changes in you during pandemic? In this workshop, we aim to create a visual record of this very strange and trying time in our collective and personal histories. Everyone will end the workshop with at least one "broadsheet," or image + text mashup.
Stina French/Sister Rainbow Scream will host alongside Amber Crabbe, a fine-arts photographer known for her work exploring domestic landscapes. View her work here: https://www.amberimage.com/
$25-50 suggested donation to benefit a Denver-local organization serving the needs of domestic-violence survivors.