featured reader information
FEBRUARY 27th, 5p (mst) FEATURED READERS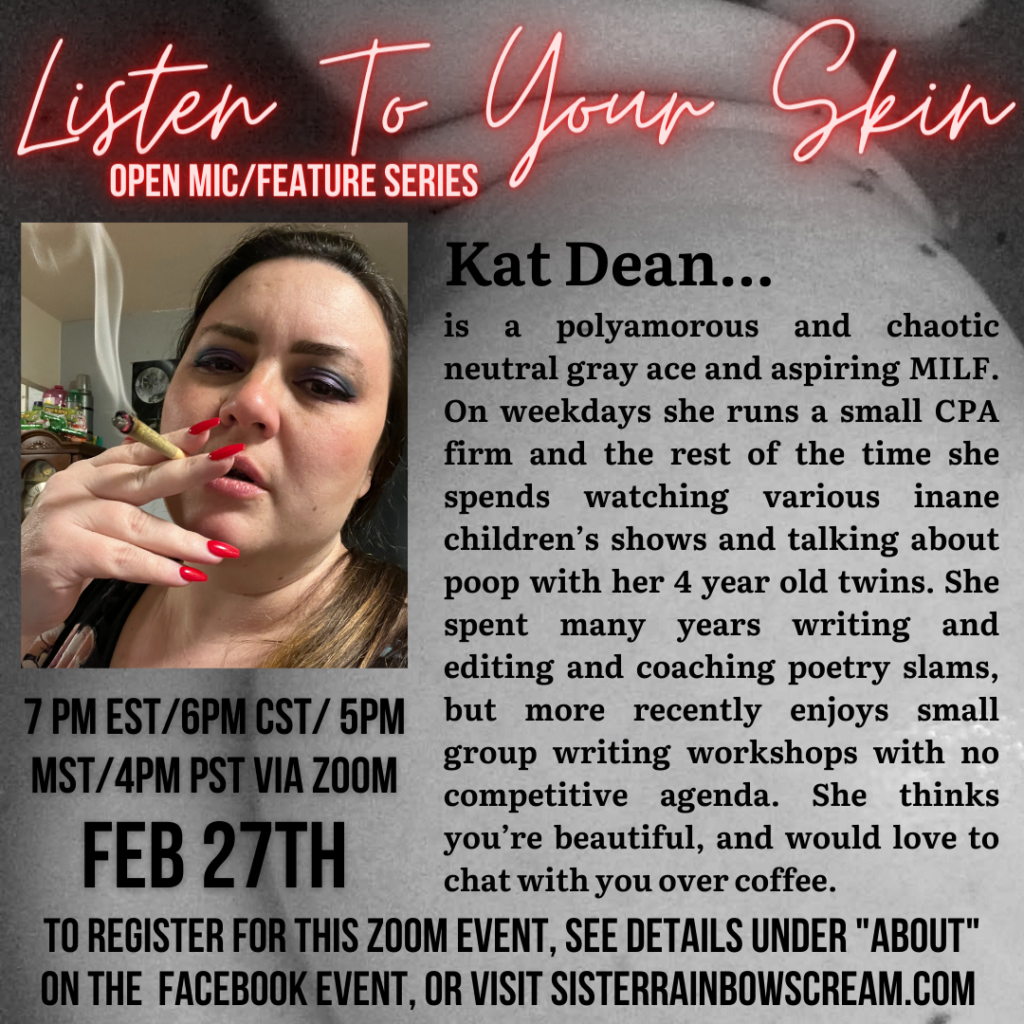 Kat Dean…
is a polyamorous and chaotic neutral gray ace and aspiring MILF. On weekdays she runs a small CPA firm and the rest of the time she spends watching various inane children's shows and talking about poop with her 4 year old twins. She spent many years writing and editing and coaching poetry slams, but more recently enjoys small group writing workshops with no competitive agenda. She thinks you're beautiful, and would love to chat with you over coffee.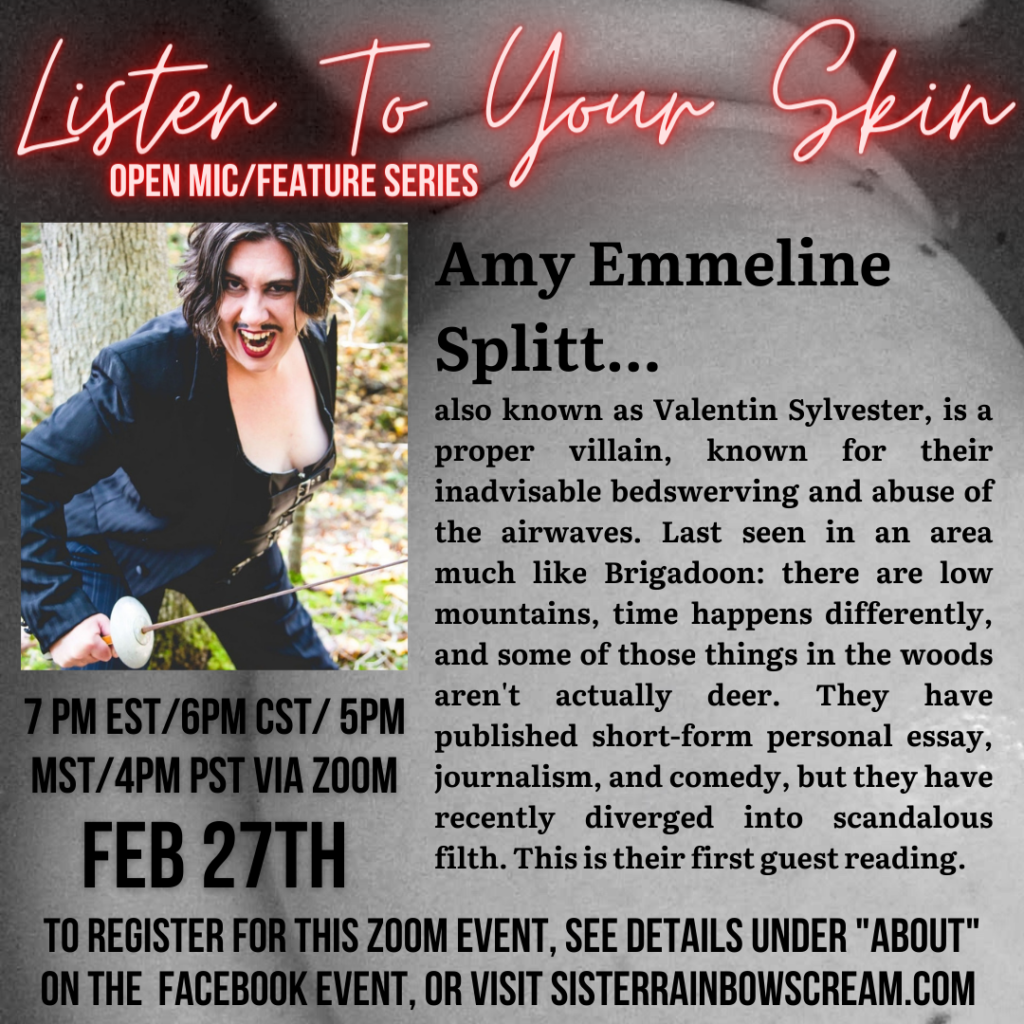 Amy Emmeline Splitt…
also known as Valentin Sylvester, is a proper villain, known for their inadvisable bedswerving and abuse of the airwaves. Last seen in an area much like Brigadoon: there are low mountains, time happens differently, and some of those things in the woods aren't actually deer. They have published short-form personal essay, journalism, and comedy, but they have recently diverged into scandalous filth. This is their first guest reading.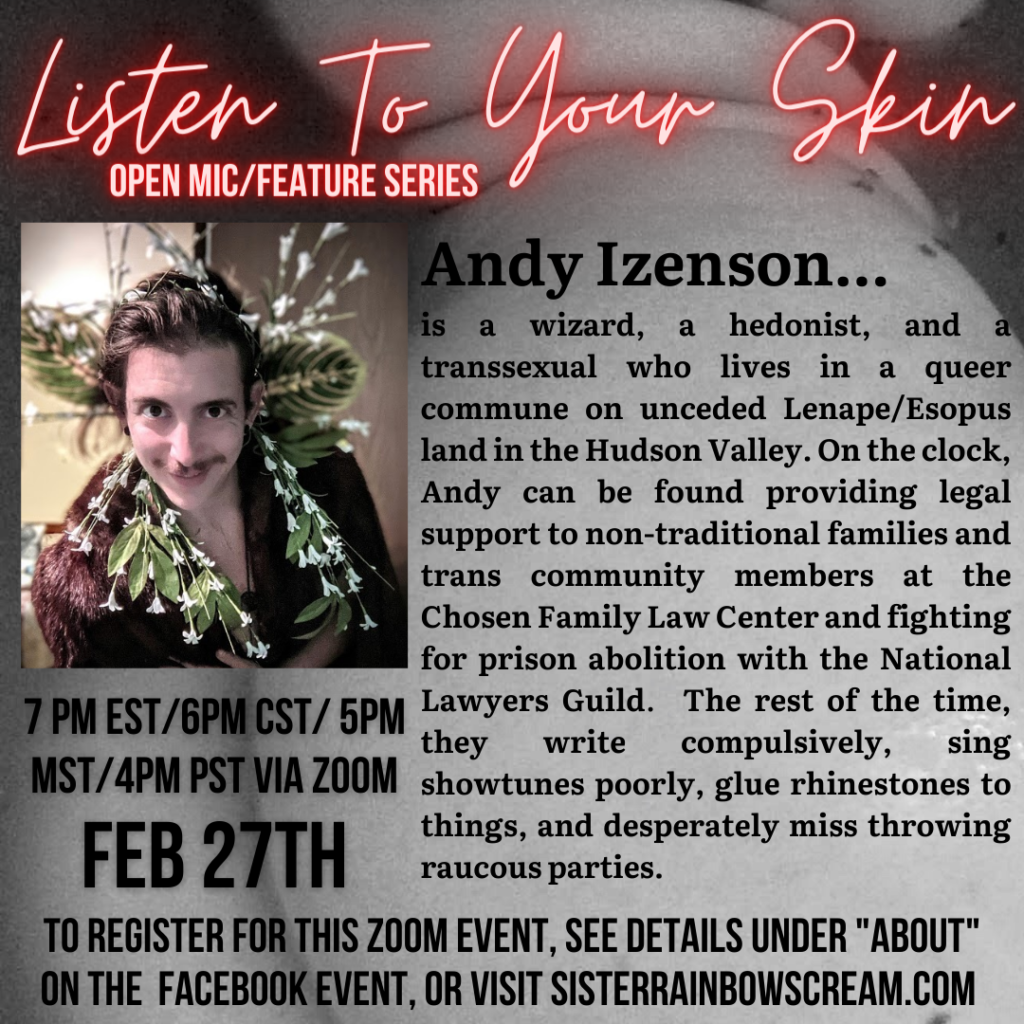 Andy Izenson…
is a wizard, a hedonist, and a transsexual who lives in a queer commune on unceded Lenape/Esopus land in the Hudson Valley. On the clock, Andy can be found providing legal support to non-traditional families and trans community members at the Chosen Family Law Center and fighting for prison abolition with the National Lawyers Guild. The rest of the time, they write compulsively, sing showtunes poorly, glue rhinestones to things, and desperately miss throwing raucous parties.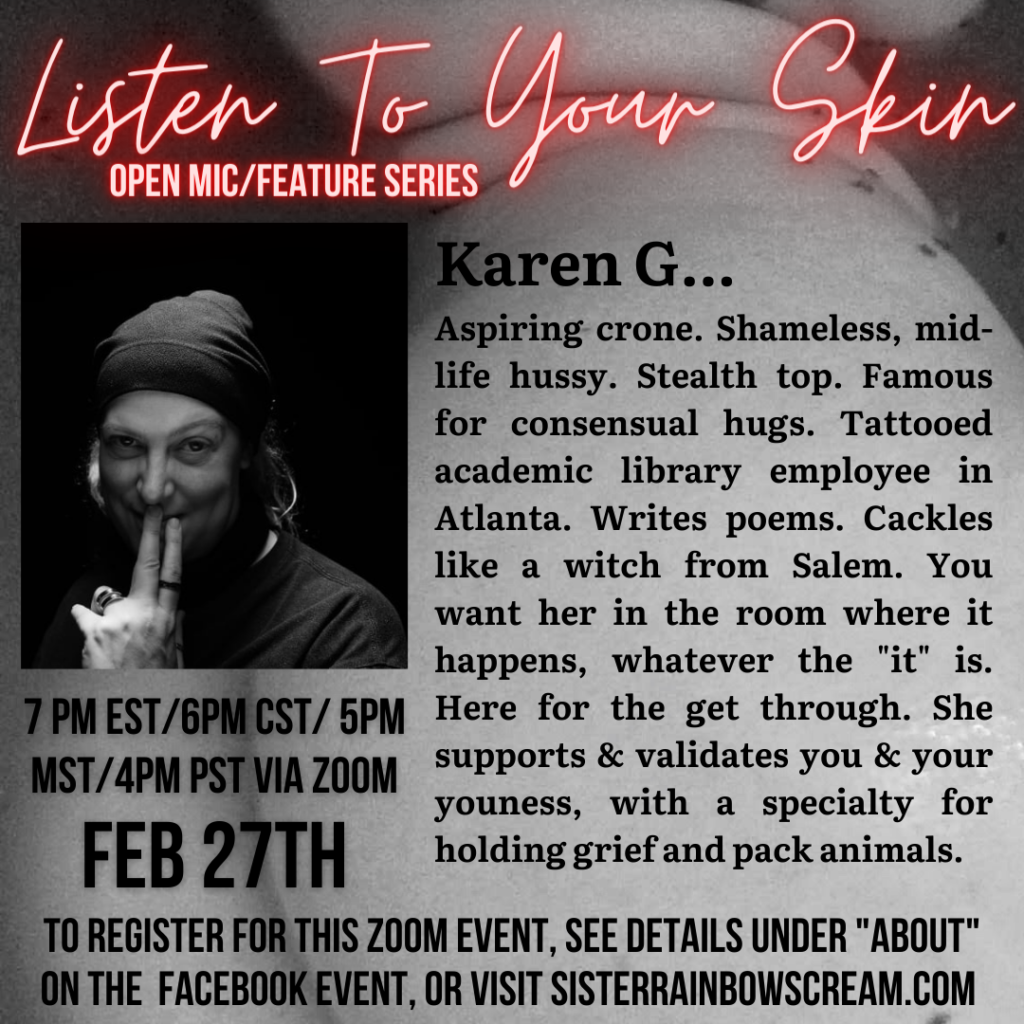 Karen G…
Aspiring crone. Shameless, mid-life hussy. Stealth top. Famous for consensual hugs. Tattooed academic library employee in Atlanta. Writes poems. Cackles like a witch from Salem. You want her in the room where it happens, whatever the "it" is. Here for the get through. She supports & validates you & your youness, with a specialty for holding grief and pack animals.
JANUARY 30th, 5p (mst) FEATURED READER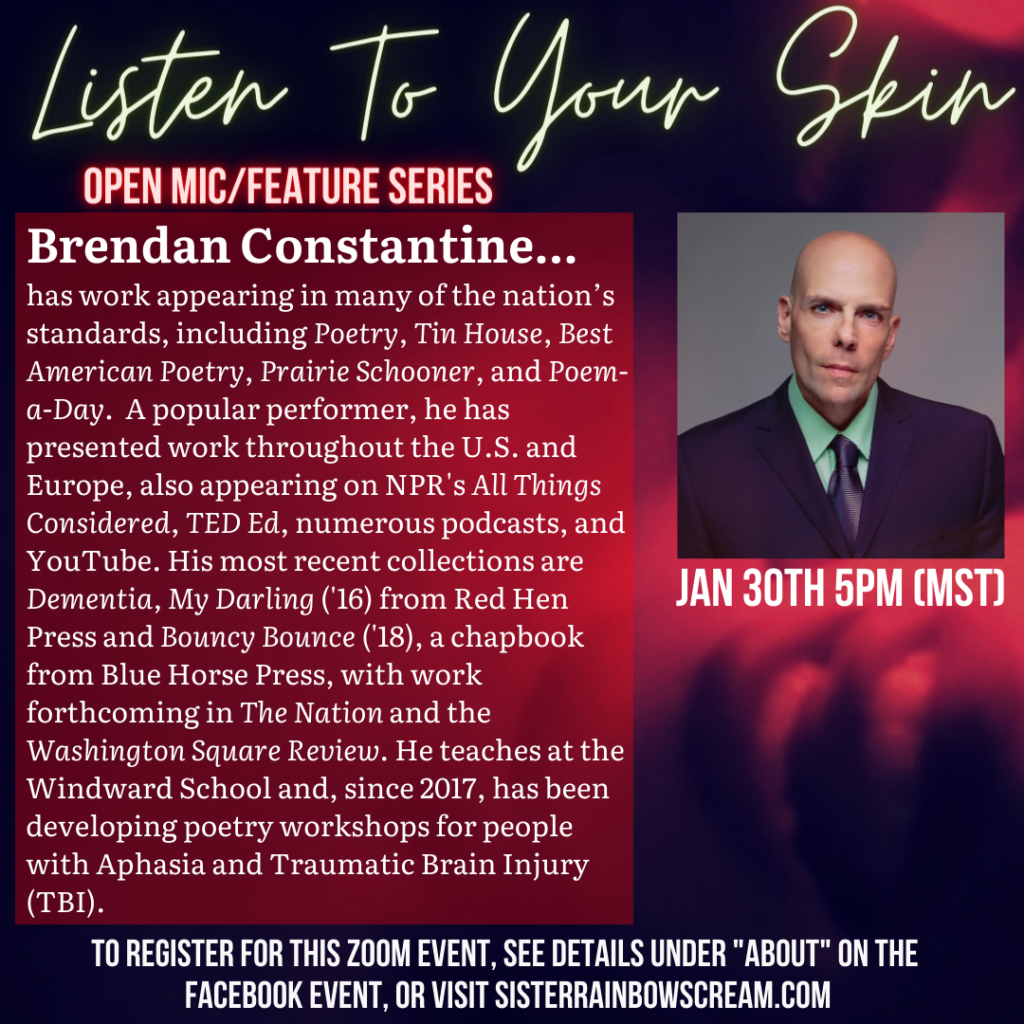 Brendan Constantine…
has work appearing in many of the nation's standards, including Poetry, Tin House, Best American Poetry, Prairie Schooner, and Poem-a-Day. A popular performer, he has presented work throughout the U.S. and Europe, also appearing on NPR's All Things Considered, TED Ed, numerous podcasts, and YouTube. His most recent collections are Dementia, My Darling ('16) from Red Hen Press and Bouncy Bounce ('18), a chapbook from Blue Horse Press, with work forthcoming in The Nation and the Washington Square Review. He teaches at the Windward School and, since 2017, has been developing poetry workshops for people with Aphasia and Traumatic Brain Injury (TBI).
NOVEMBER 28th, 5p (mst) FEATURED READER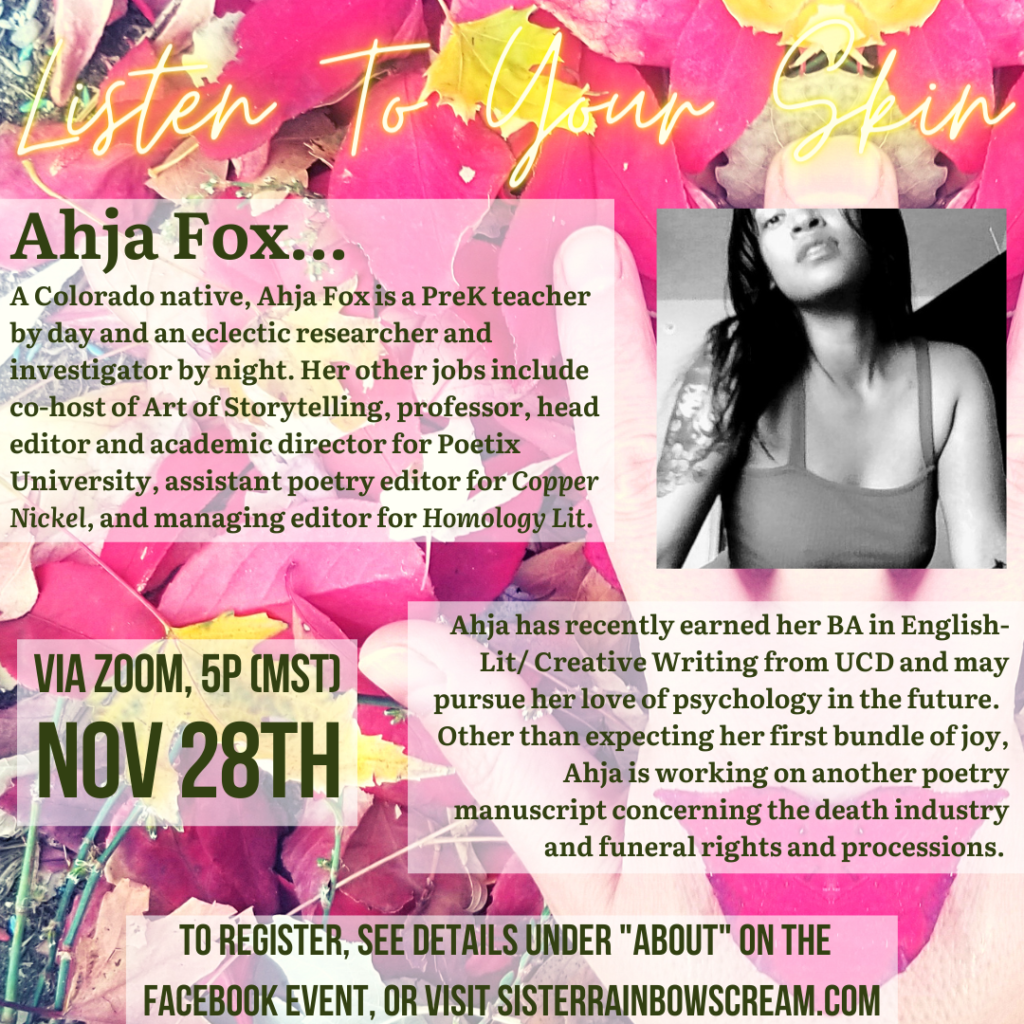 Ahja Fox…
A Colorado native, Ahja Fox is a PreK teacher by day and an eclectic researcher and investigator by night. Her other jobs include co-host of Art of Storytelling, professor, head editor and academic director for Poetix University, assistant poetry editor for Copper Nickel, and managing editor for Homology Lit. Ahja has recently earned her BA in English-Lit/ Creative Writing from UCD and may pursue her love of psychology in the future. Other than expecting her first bundle of joy, Ahja is working on another poetry manuscript concerning the death industry and funeral rights and processions.
OCTOBER 30th, 5p (mst) FEATURED READERS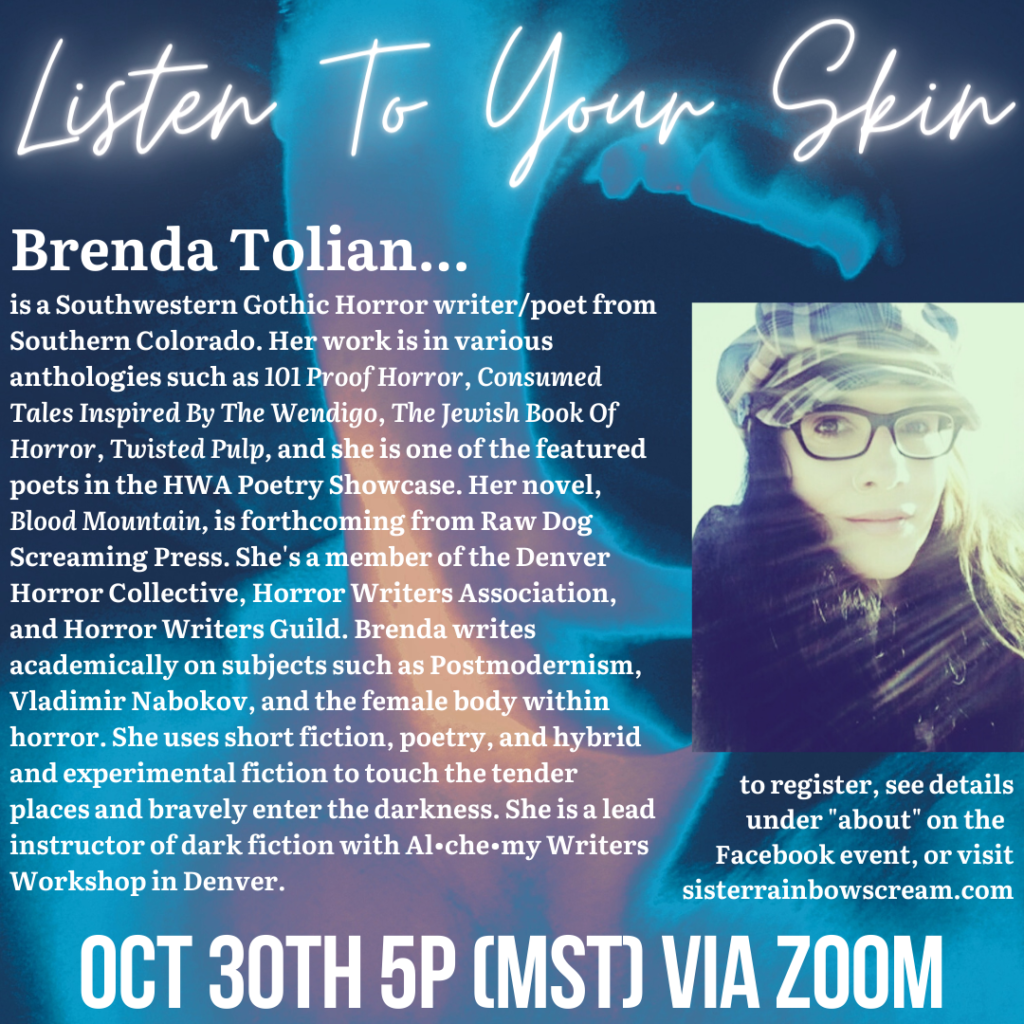 Brenda Tolian…
is a Southwestern Gothic Horror writer/poet from Southern Colorado. Her work is in various anthologies such as 101 Proof Horror, Consumed Tales Inspired By The Wendigo, The Jewish Book Of Horror, Twisted Pulp, and she is one of the featured poets in the HWA Poetry Showcase. Her novel, Blood Mountain, is forthcoming from Raw Dog Screaming Press. She's a member of the Denver Horror Collective, Horror Writers Association, and Horror Writers Guild. Brenda writes academically on subjects such as Postmodernism, Vladimir Nabokov, and the female body within horror. She uses short fiction, poetry, and hybrid and experimental fiction to touch the tender places and bravely enter the darkness. She is a lead instructor of dark fiction with Al•che•my Writers Workshop in Denver.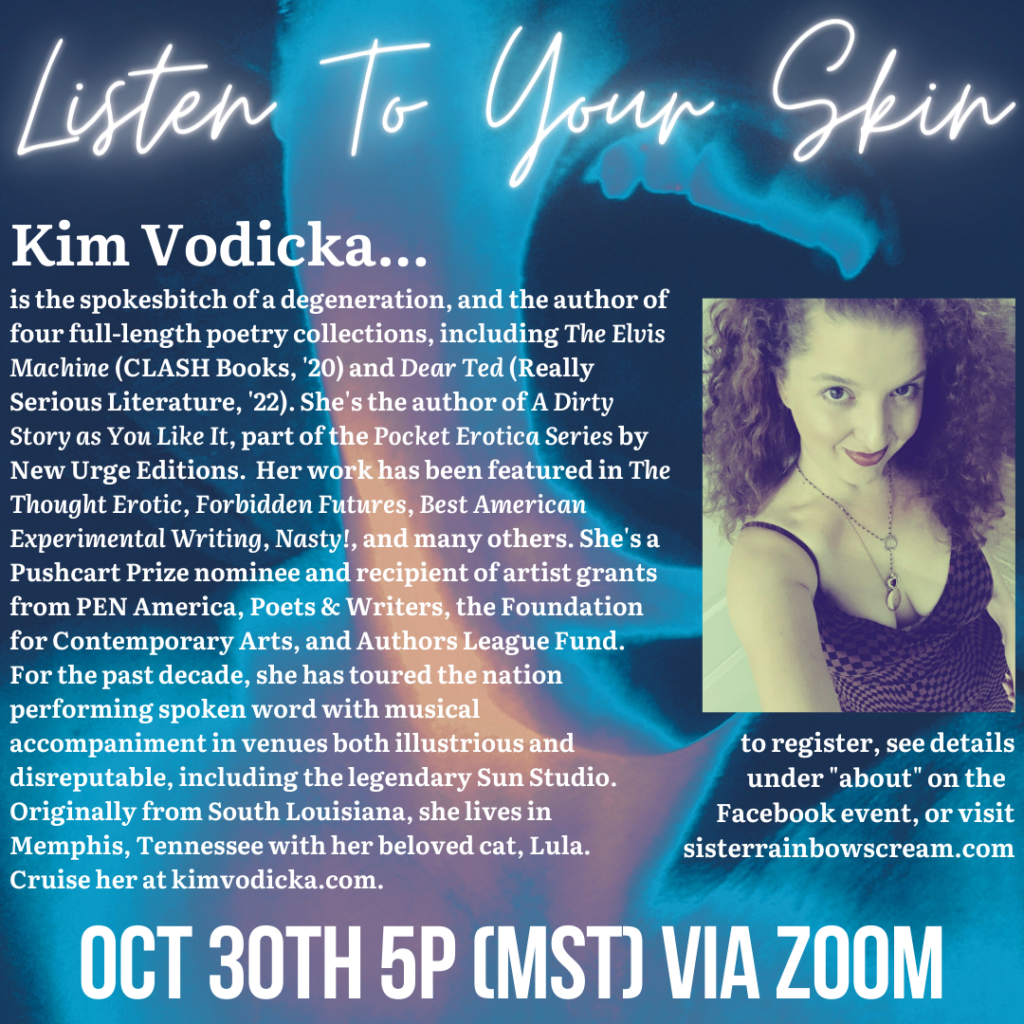 Kim Vodicka…
is the spokesbitch of a degeneration, and the author of four full-length poetry collections, including The Elvis Machine (CLASH Books, '20) and Dear Ted (Really Serious Literature, '22). She's the author of A Dirty Story as You Like It, part of the Pocket Erotica Series by New Urge Editions. Her work has been featured in The Thought Erotic, Forbidden Futures, Best American Experimental Writing, Nasty!, and many others. She's a Pushcart Prize nominee and recipient of artist grants from PEN America, Poets & Writers, the Foundation for Contemporary Arts, and Authors League Fund. For the past decade, she has toured the nation performing spoken word with musical accompaniment in venues both illustrious and disreputable, including the legendary Sun Studio. Originally from South Louisiana, she lives in Memphis, Tennessee with her beloved cat, Lula. Cruise her at kimvodicka.com.
SEPTEMBER 26th, 5p (mst) FEATURED READERS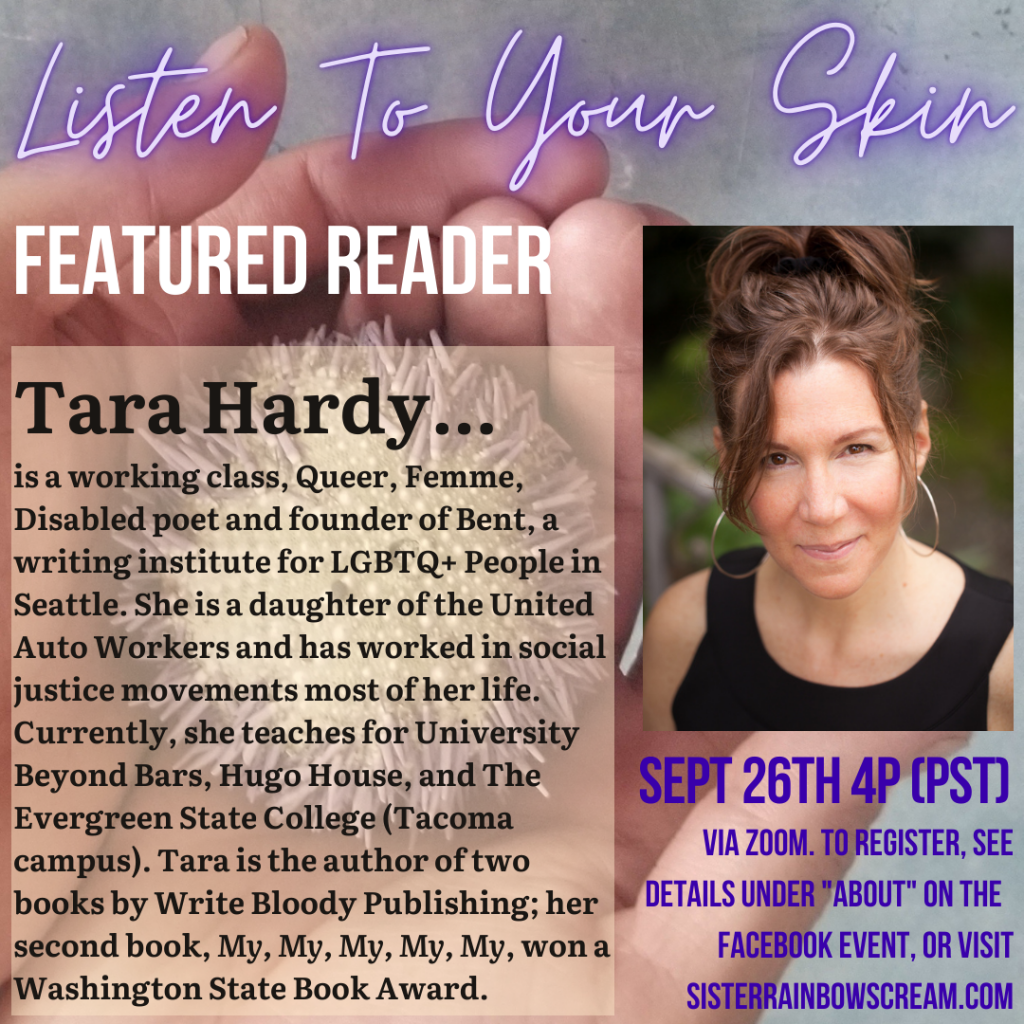 Tara Hardy…is a working class, Queer, Femme, Disabled poet and founder of Bent, a writing institute for LGBTQ+ People in Seattle. She is a daughter of the United Auto Workers and has worked in social justice movements most of her life. Currently, she teaches for University Beyond Bars, Hugo House, and The Evergreen State College (Tacoma campus). Tara is the author of two books by Write Bloody Publishing; her second book, My, My, My, My, My, won a Washington State Book Award.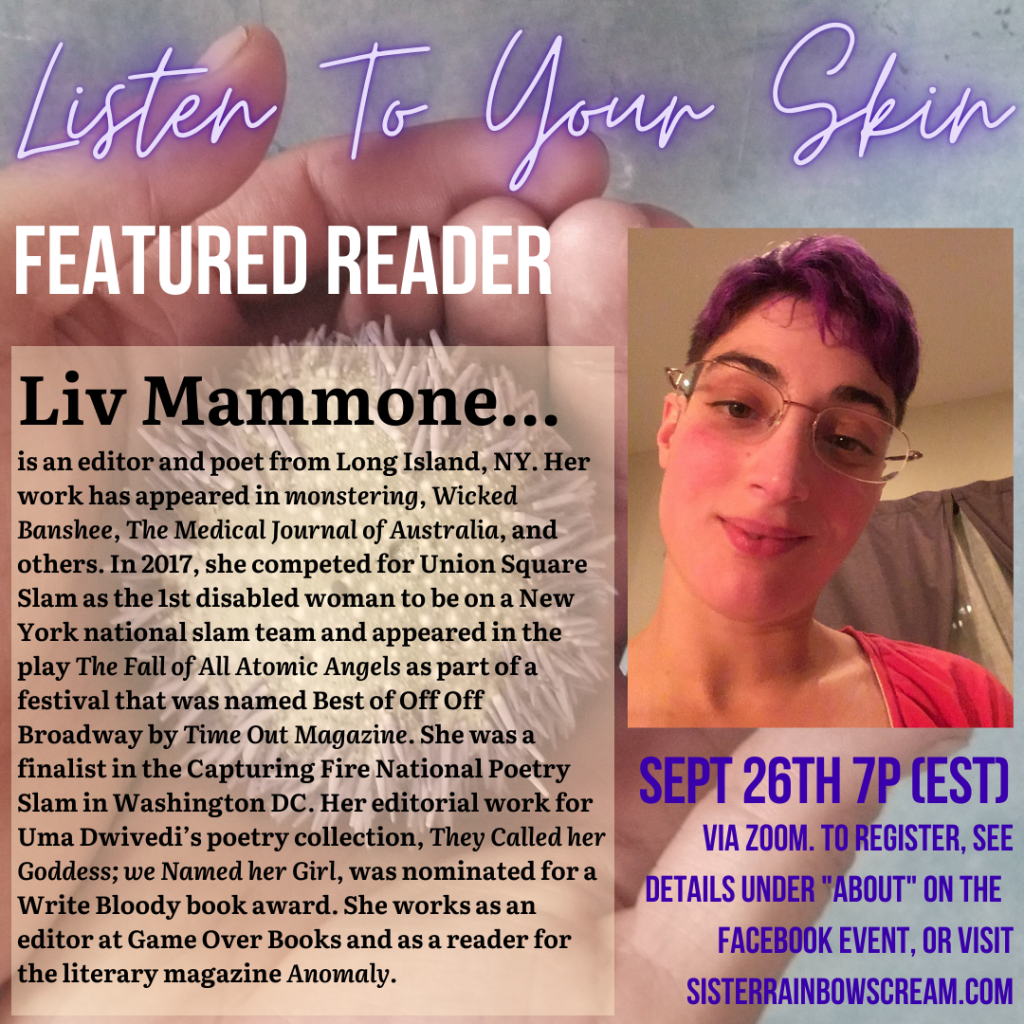 Liv Mammone…is an editor and poet from Long Island, NY. Her work has appeared in monstering, Wicked Banshee, The Medical Journal of Australia, and others. In 2017, she competed for Union Square Slam as the 1st disabled woman to be on a New York national slam team and appeared in the play The Fall of All Atomic Angels as part of a festival that was named Best of Off Off Broadway by Time Out Magazine. She was a finalist in the Capturing Fire National Poetry Slam in Washington DC. Her editorial work for Uma Dwivedi's poetry collection, They Called her Goddess; we Named her Girl, was nominated for a Write Bloody book award. She works as an editor at Game Over Books and as a reader for the literary magazine Anomaly.
AUGUST 29th, 5p (mst) FEATURED READERS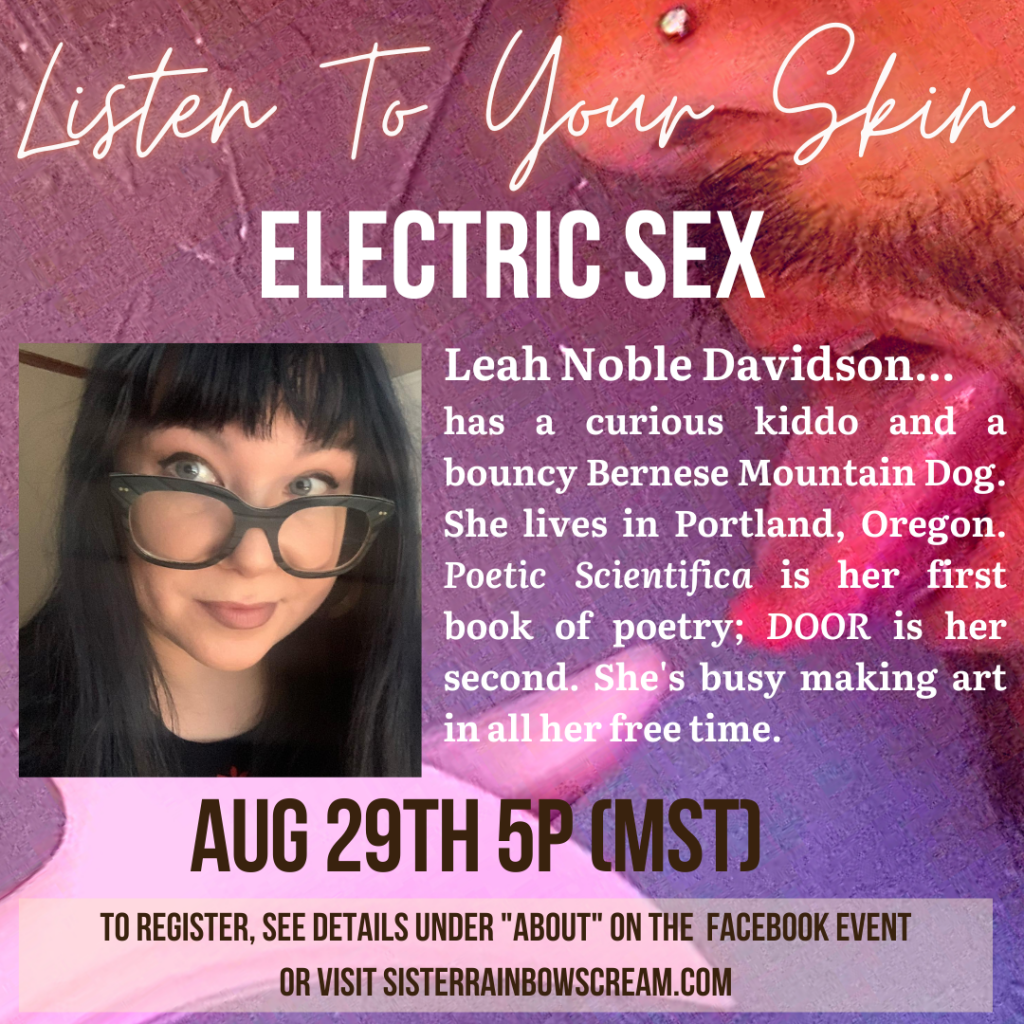 Leah Noble Davidson…has a curious kiddo and a bouncy Bernese Mountain Dog. She lives in Portland, Oregon. Poetic Scientifica is her first book of poetry; DOOR is her second. She's busy making art in all her free time.
JULY 25th, 5p (mst) FEATURED READERS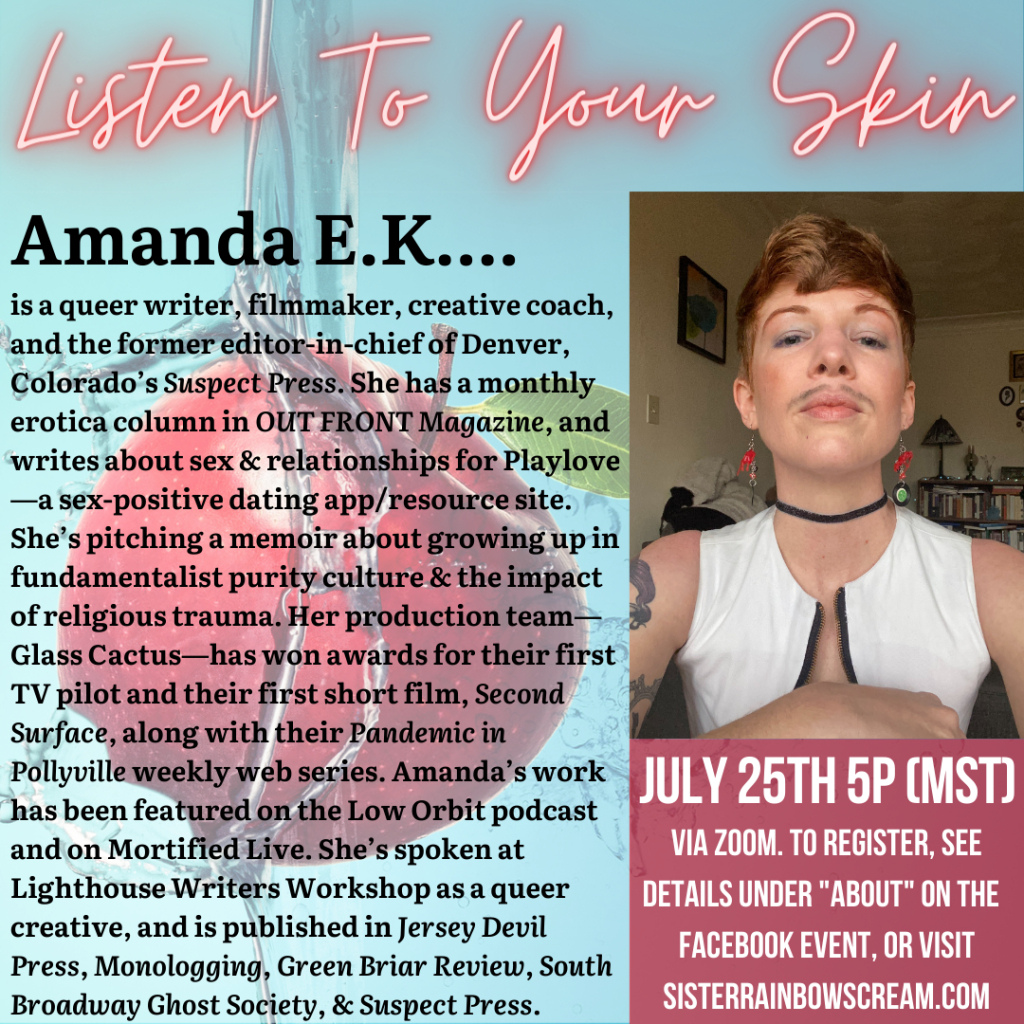 Amanda E.K….is a queer writer, filmmaker, creative coach, and the former editor-in-chief of Denver, Colorado's Suspect Press. She has a monthly erotica column in OUT FRONT Magazine, and writes about sex & relationships for Playlove—a sex-positive dating app/resource site. She's pitching a memoir about growing up in fundamentalist purity culture & the impact of religious trauma. Her production team—Glass Cactus—has won awards for their first TV pilot and their first short film, Second Surface, along with their Pandemic in Pollyville weekly web series. Amanda's work has been featured on the Low Orbit podcast and on Mortified Live. She's spoken at Lighthouse Writers Workshop as a queer creative, and is published in Jersey Devil Press, Monologging, Green Briar Review, South Broadway Ghost Society, & Suspect Press.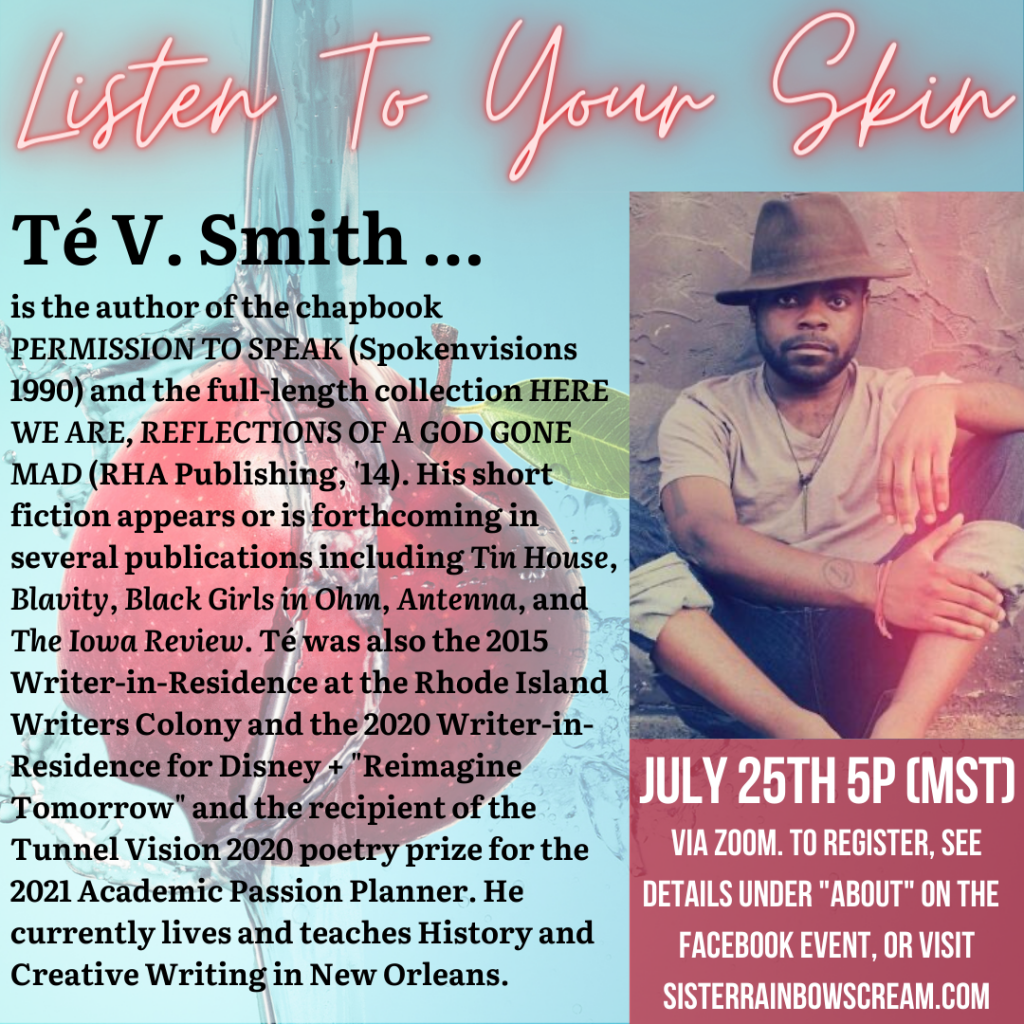 Té V. Smith…is the author of the chapbook PERMISSION TO SPEAK (Spokenvisions 1990) and the full-length collection HERE WE ARE, REFLECTIONS OF A GOD GONE MAD (RHA Publishing, '14). His short fiction appears or is forthcoming in several publications including Tin House, Blavity, Black Girls in Ohm, Antenna, and The Iowa Review. Té was also the 2015 Writer-in-Residence at the Rhode Island Writers Colony and the 2020 Writer-in-Residence for Disney + "Reimagine Tomorrow" and the recipient of the Tunnel Vision 2020 poetry prize for the 2021 Academic Passion Planner. He currently lives and teaches History and Creative Writing in New Orleans.
JUNE 27th, 5p (mst) FEATURED READERS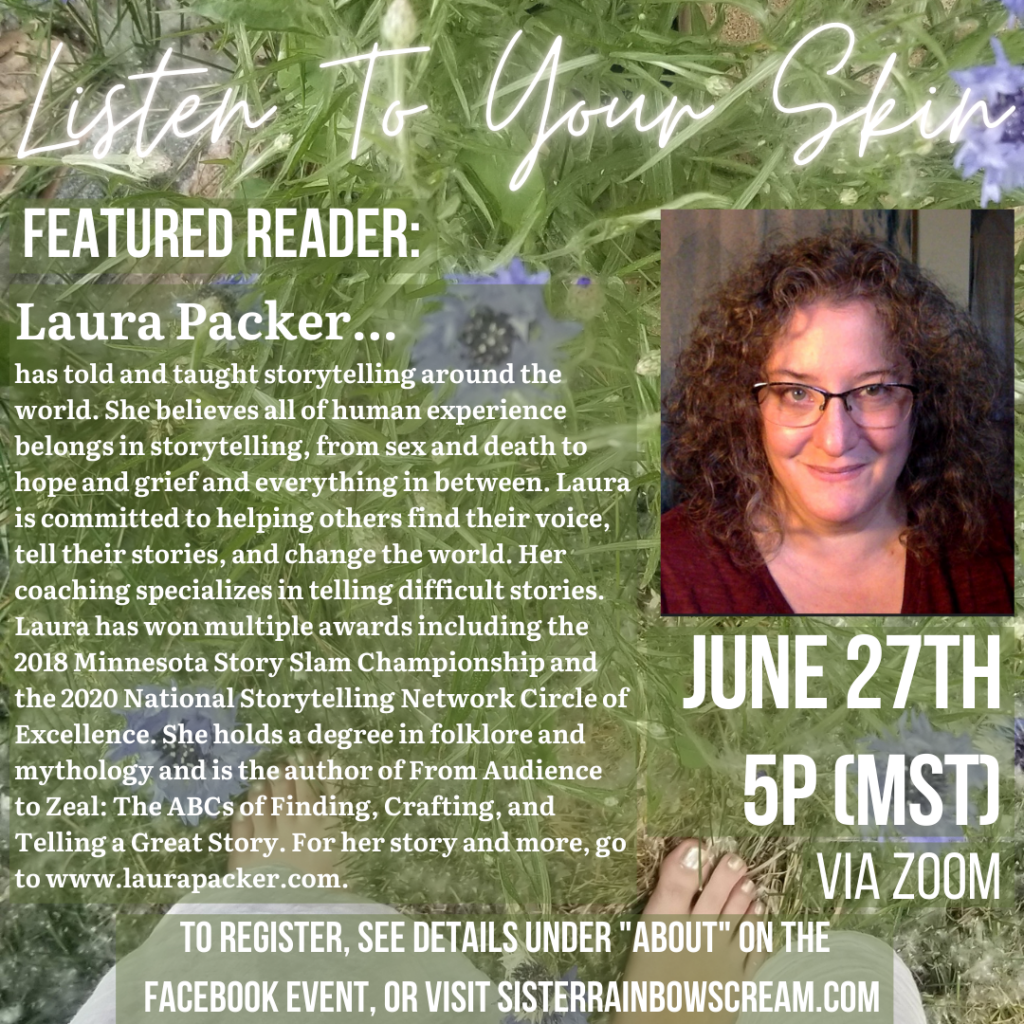 Laura Packer…has told and taught storytelling around the world. She believes all of human experience belongs in storytelling, from sex and death to hope and grief and everything in between. Laura is committed to helping others find their voice, tell their stories, and change the world. Her coaching specializes in telling difficult stories. Laura has won multiple awards including the 2018 Minnesota Story Slam Championship and the 2020 National Storytelling Network Circle of Excellence. She holds a degree in folklore and mythology and is the author of From Audience to Zeal: The ABCs of Finding, Crafting, and Telling a Great Story. For her story and more, go to www.laurapacker.com.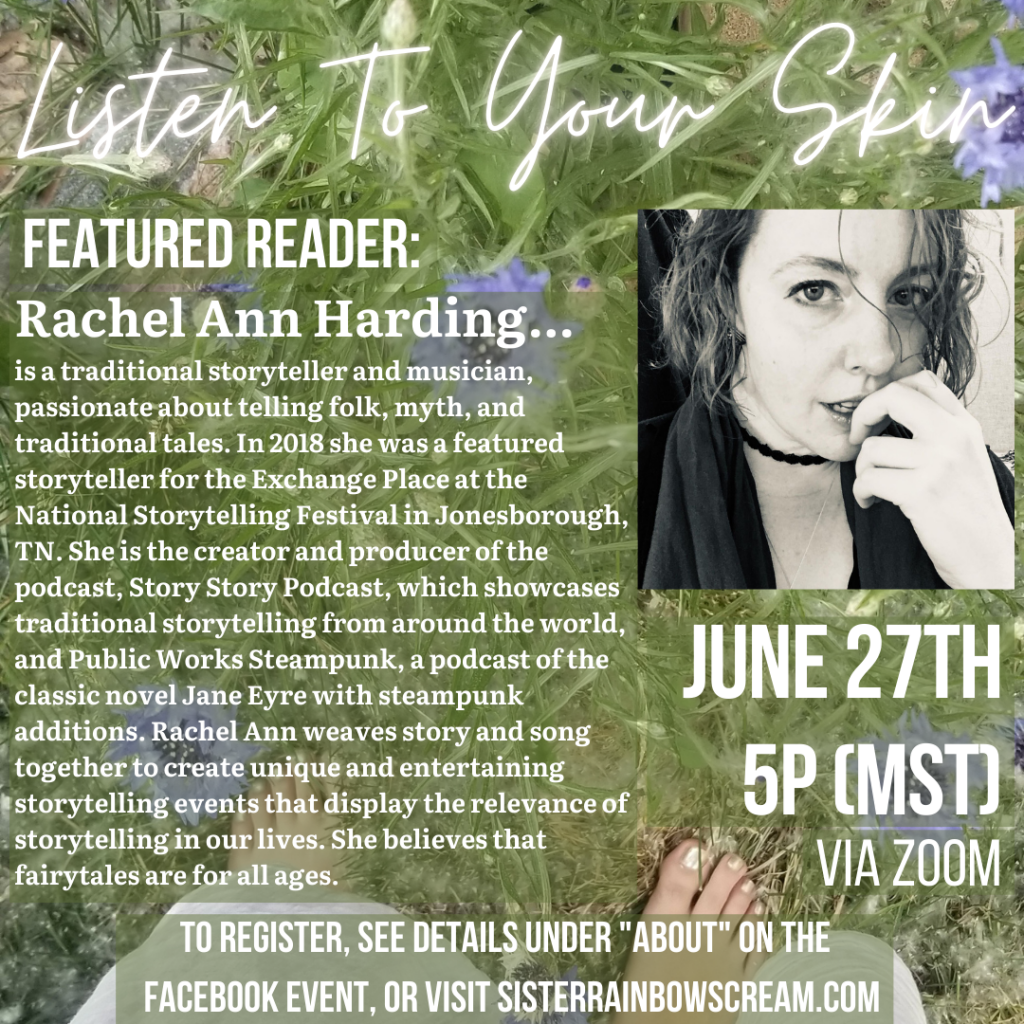 Rachel Ann Harding…is a traditional storyteller and musician, passionate about telling folk, myth, and traditional tales. In 2018 she was a featured storyteller for the Exchange Place at the National Storytelling Festival in Jonesborough, TN. She is the creator and producer of the podcast, Story Story Podcast, which showcases traditional storytelling from around the world, and Public Works Steampunk, a podcast of the classic novel Jane Eyre with steampunk additions. Rachel Ann weaves story and song together to create unique and entertaining storytelling events that display the relevance of storytelling in our lives. She believes that fairytales are for all ages.
MAY 30th, 5p (mst) FEATURED READERS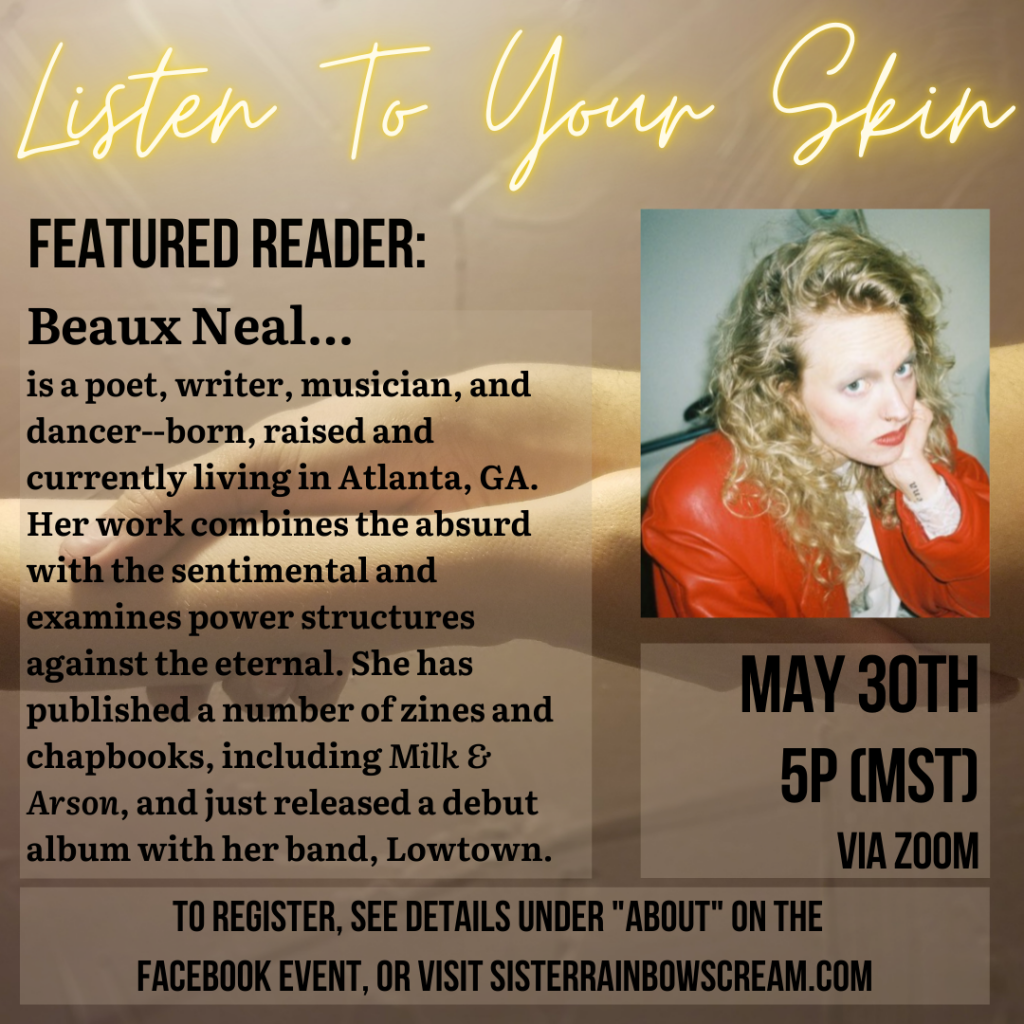 Beaux Neal…is a poet, writer, musician, and dancer–born, raised and currently living in Atlanta, GA. Her work combines the absurd with the sentimental and examines power structures against the eternal. She has published a number of zines and chapbooks, including Milk & Arson, and just released a debut album with her band, Lowtown.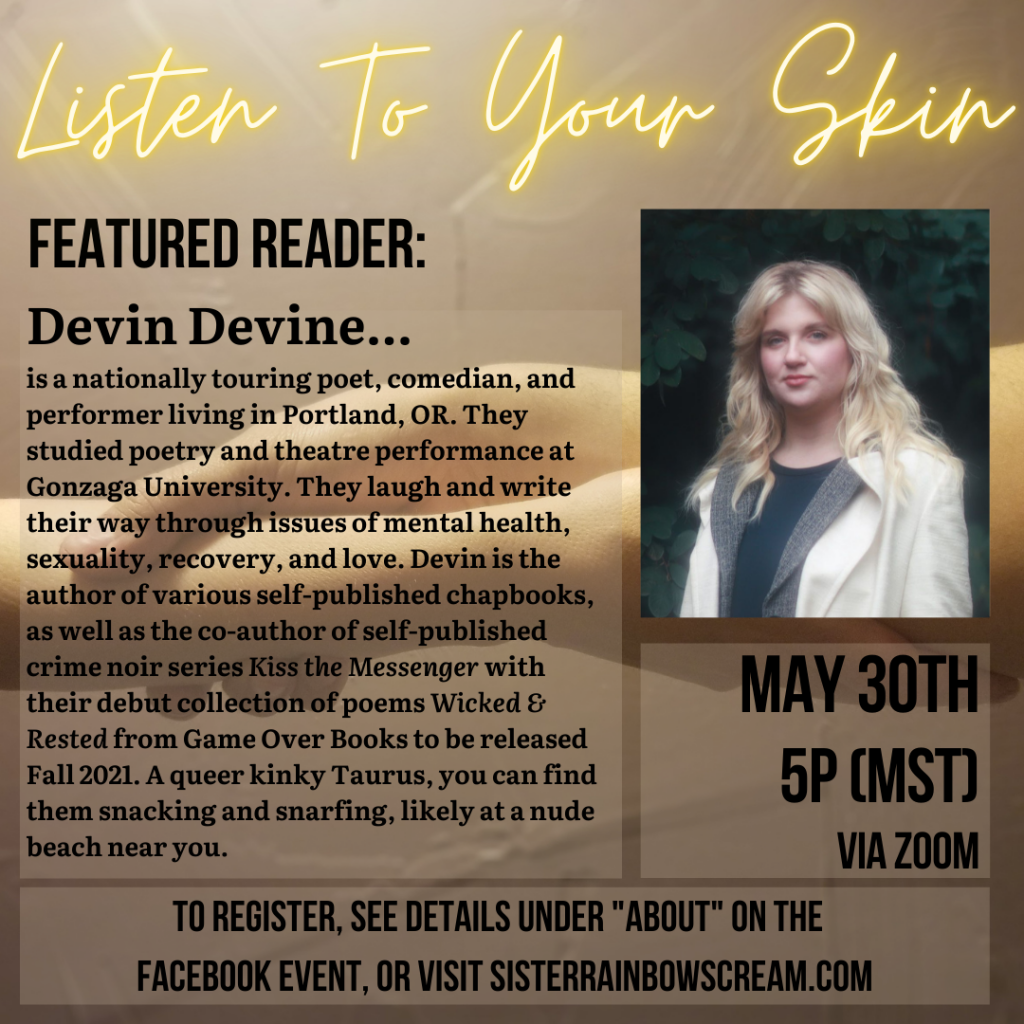 Devin Devine…is a nationally touring poet, comedian, and performer living in Portland, OR. They studied poetry and theatre performance at Gonzaga University. They laugh and write their way through issues of mental health, sexuality, recovery, and love. Devin is the author of various self-published chapbooks, as well as the co-author of self-published crime noir series Kiss the Messenger with their debut collection of poems Wicked & Rested from Game Over Books to be released Fall 2021. A queer kinky Taurus, you can find them snacking and snarfing, likely at a nude beach near you.
APRIL 25th, 5p (mst) FEATURED READERS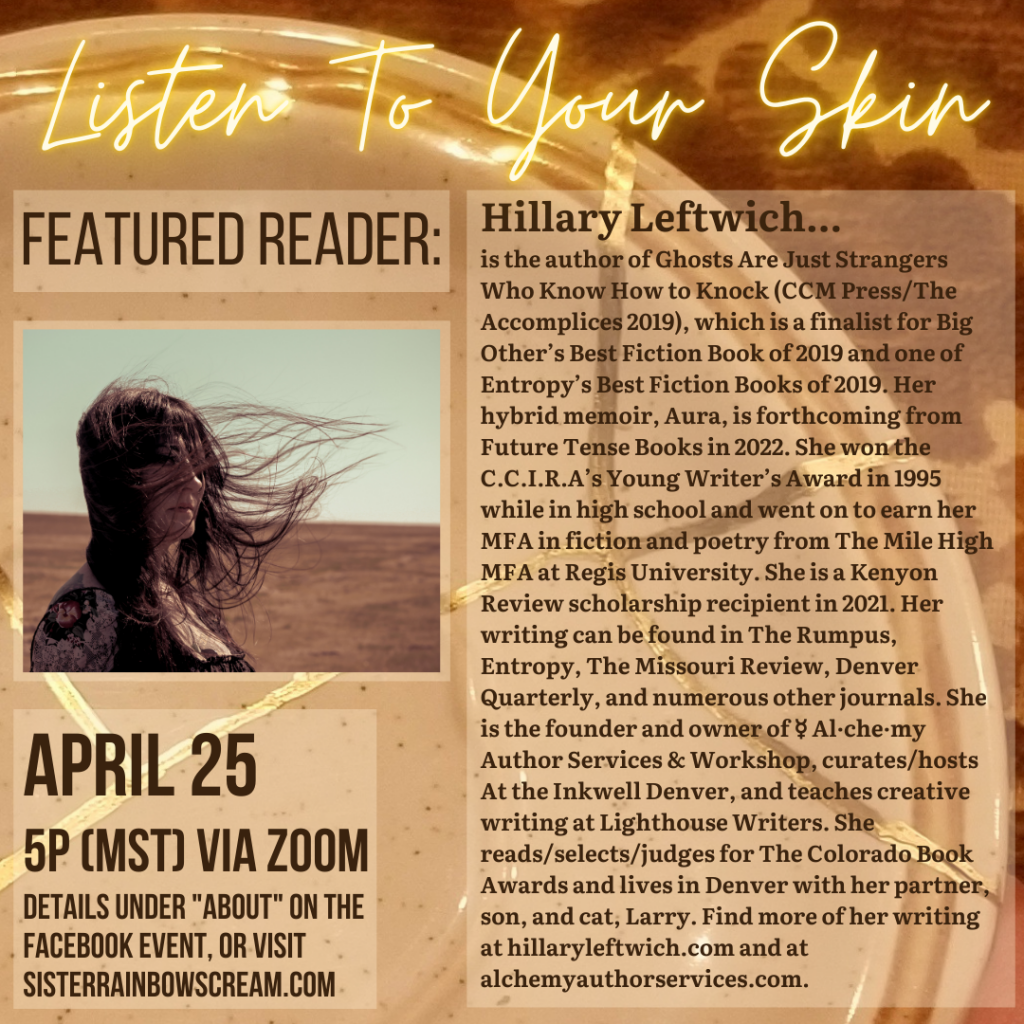 Hillary Leftwich…is the author of Ghosts Are Just Strangers Who Know How to Knock (CCM Press/The Accomplices 2019), which is a finalist for Big Other's Best Fiction Book of 2019 and one of Entropy's Best Fiction Books of 2019. Her hybrid memoir, Aura, is forthcoming from Future Tense Books in 2022. She won the C.C.I.R.A's Young Writer's Award in 1995 while in high school and went on to earn her MFA in fiction and poetry from The Mile High MFA at Regis University. She is a Kenyon Review scholarship recipient in 2021. Her writing can be found in The Rumpus, Entropy, The Missouri Review, Denver Quarterly, and numerous other journals. She is the founder and owner of ☿ Al·che·my Author Services & Workshop, curates/hosts At the Inkwell Denver, and teaches creative writing at Lighthouse Writers. She reads/selects/judges for The Colorado Book Awards and lives in Denver with her partner, son, and cat, Larry. Find more of her writing at hillaryleftwich.com and at alchemyauthorservices.com.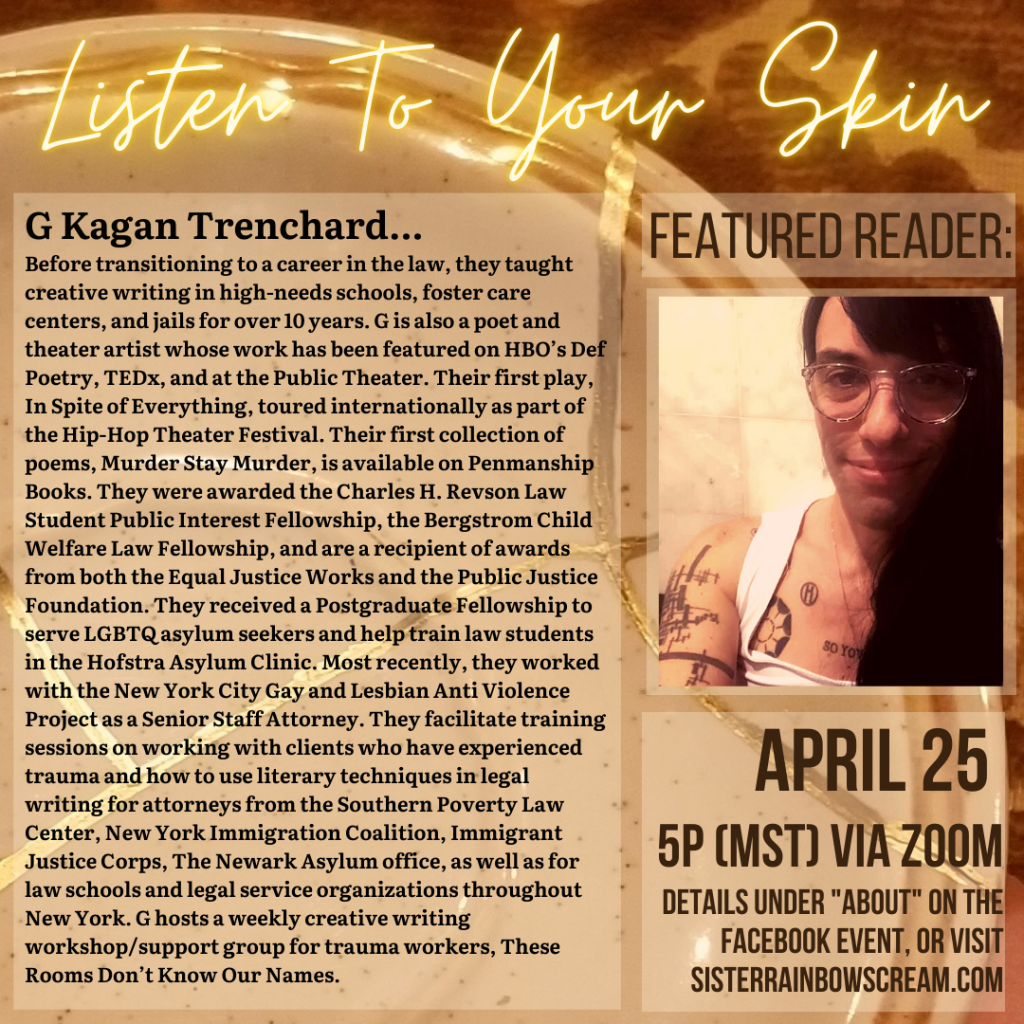 G Kagan Trenchard… Before transitioning to a career in the law, they taught creative writing in high-needs schools, foster care centers, and jails for over 10 years. G is also a poet and theater artist whose work has been featured on HBO's Def Poetry, TEDx, and at the Public Theater. Their first play, In Spite of Everything, toured internationally as part of the Hip-Hop Theater Festival. Their first collection of poems, Murder Stay Murder, is available on Penmanship Books. They were awarded the Charles H. Revson Law Student Public Interest Fellowship, the Bergstrom Child Welfare Law Fellowship, and are a recipient of awards from both the Equal Justice Works and the Public Justice Foundation. They received a Postgraduate Fellowship to serve LGBTQ asylum seekers and help train law students in the Hofstra Asylum Clinic. Most recently, they worked with the New York City Gay and Lesbian Anti Violence Project as a Senior Staff Attorney. They facilitate training sessions on working with clients who have experienced trauma and how to use literary techniques in legal writing for attorneys from the Southern Poverty Law Center, New York Immigration Coalition, Immigrant Justice Corps, The Newark Asylum office, as well as for law schools and legal service organizations throughout New York. G hosts a weekly creative writing workshop/support group for trauma workers, These Rooms Don't Know Our Names.
MARCH 28th, 5p (mst) FEATURED READERS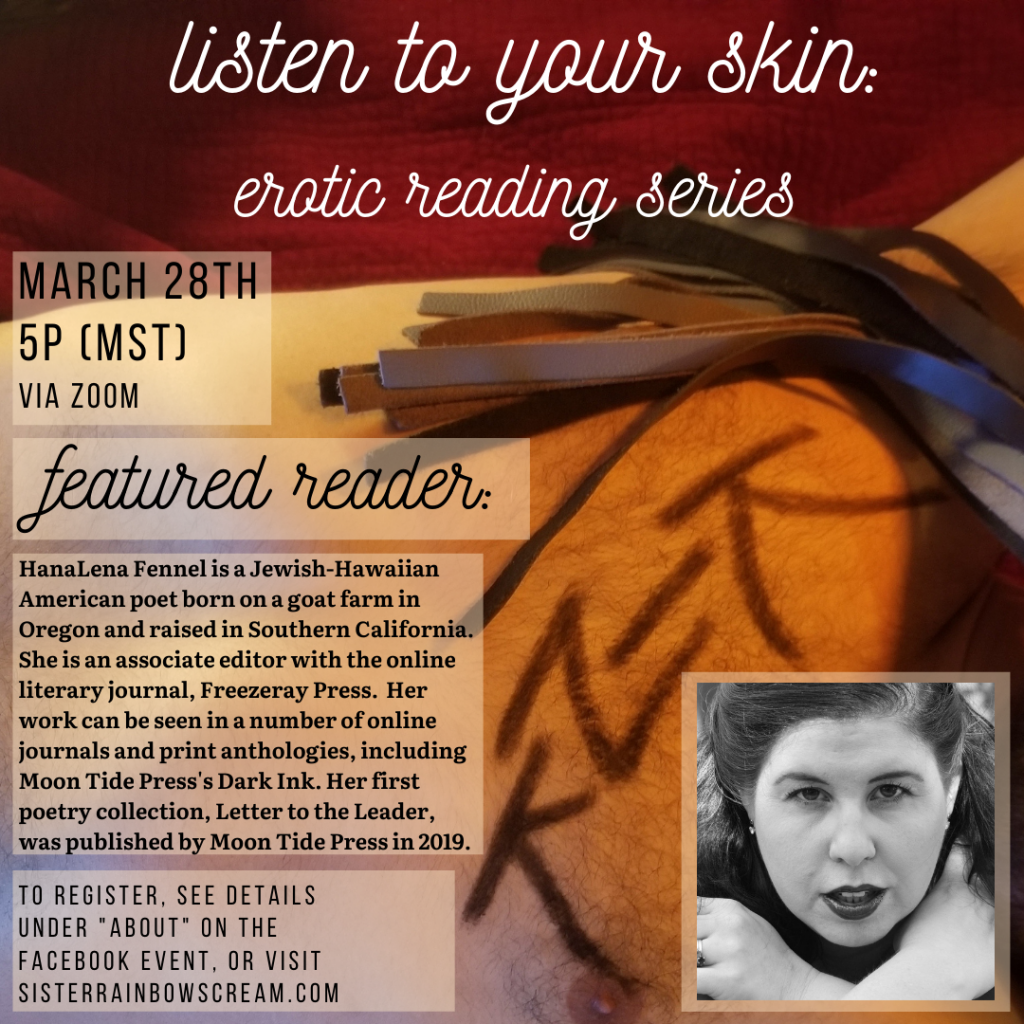 HanaLena Fennel is a Jewish-Hawaiian American poet born on a goat farm in Oregon and raised in Southern California. She is an associate editor with the online literary journal, Freezeray Press. Her work can be seen in a number of online journals and print anthologies, including Moon Tide Press's Dark Ink. Her first poetry collection, Letter to the Leader, was published by Moon Tide Press in 2019.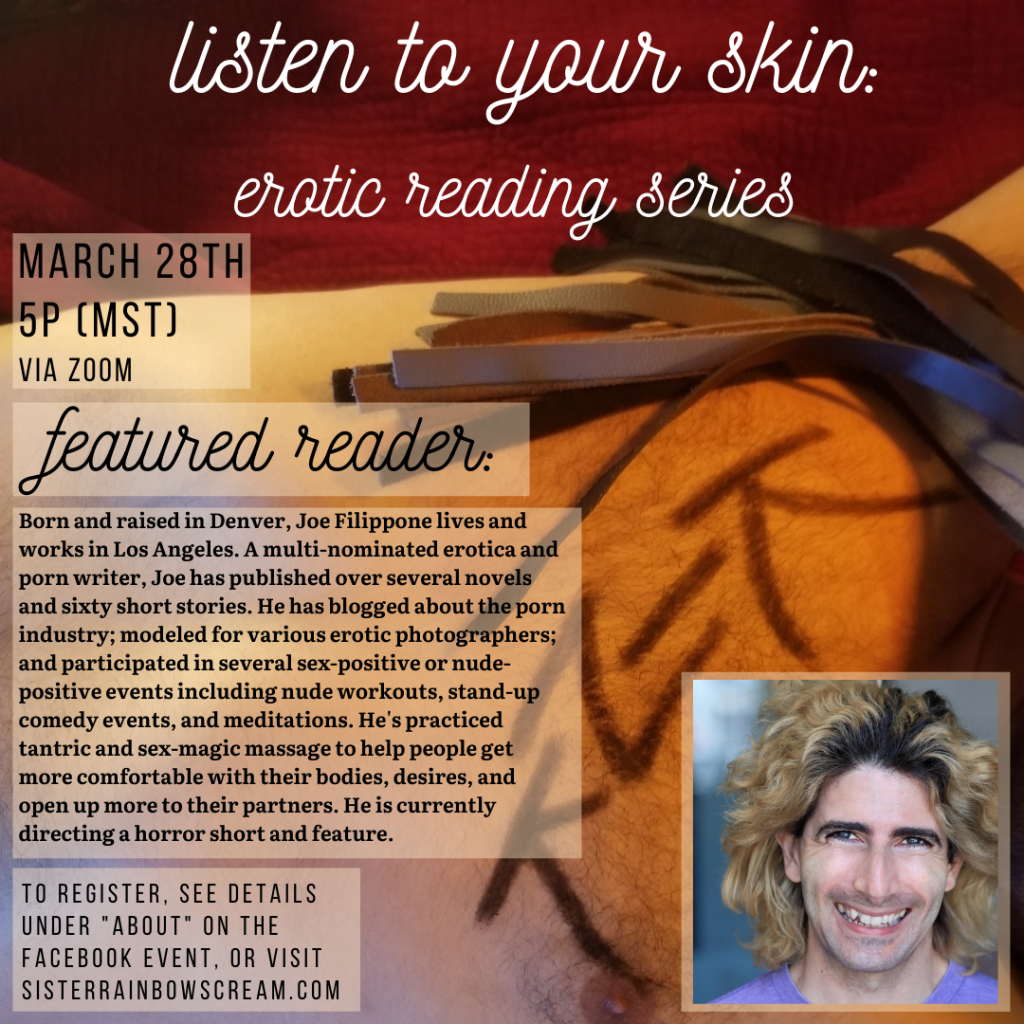 Born and raised in Denver, Joe Filippone lives and works in Los Angeles. A multi-nominated erotica and porn writer, Joe has published over several novels and sixty short stories. He has blogged about the porn industry; modeled for various erotic photographers; and participated in several sex-positive or nude-positive events including nude workouts, stand-up comedy events, and meditations. He's practiced tantric and sex-magic massage to help people get more comfortable with their bodies, desires, and open up more to their partners. He is currently directing a horror short and feature.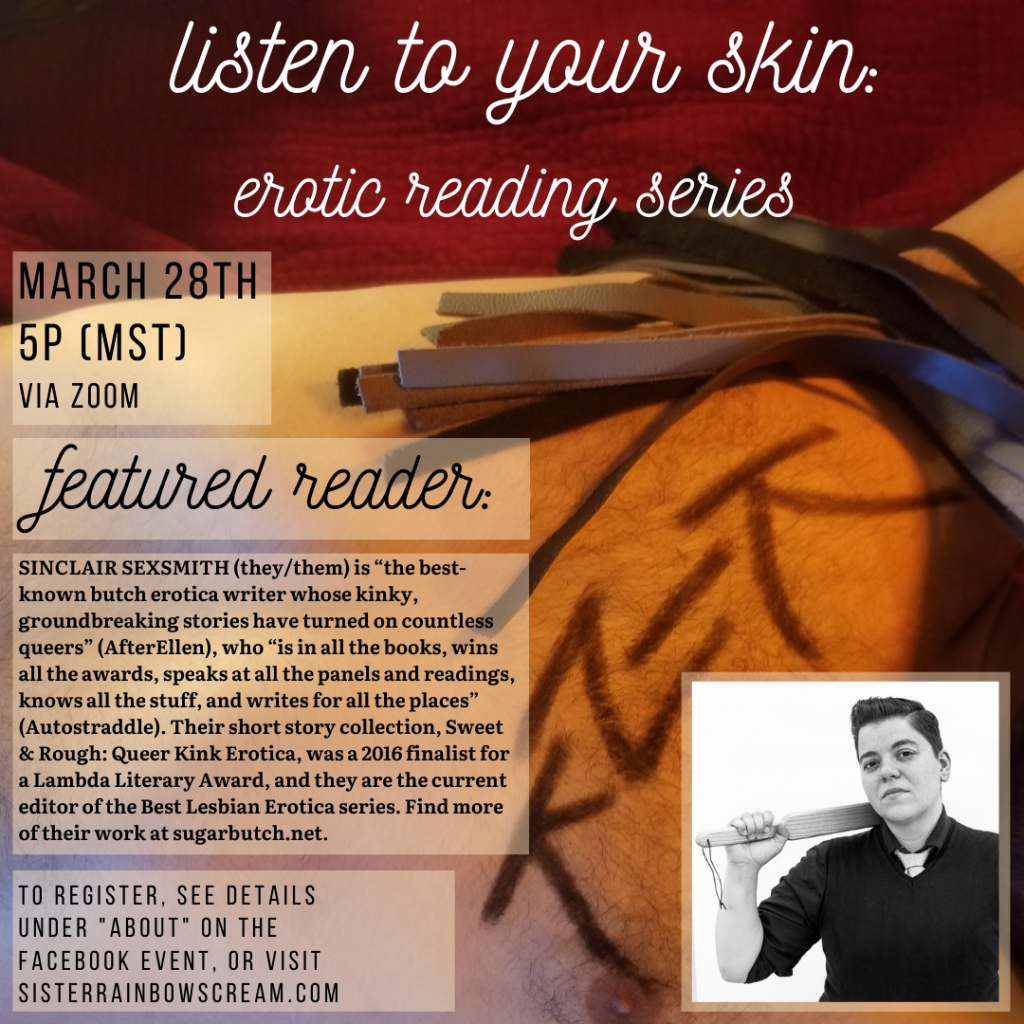 SINCLAIR SEXSMITH (they/them) is "the best-known butch erotica writer whose kinky, groundbreaking stories have turned on countless queers" (AfterEllen), who "is in all the books, wins all the awards, speaks at all the panels and readings, knows all the stuff, and writes for all the places" (Autostraddle). Their short story collection, Sweet & Rough: Queer Kink Erotica, was a 2016 finalist for a Lambda Literary Award, and they are the current editor of the Best Lesbian Erotica series. Find more of their work at sugarbutch.net.
DETERMINING FEATURES AND THEMES
We determine features and themes months in advance, so if you write into sexuality, and you ever want to be a feature, let us know asap! Along with your email to sisterrainbowscream@gmail.com, send at least 4 of your pieces (published or unpublished) and what theme(s) might fit for your work. For example, some of our current themes are "self-sex as a practice," "sexual abuse," "as graphic as we cum," and "sex church: religion and spirituality's effect on sexuality."
COMMITMENT TO EQUITY
Finally, at the Listen To Your Skin open-mic and feature-reader series, we commit to centering work by BIPOC and LGBTQIAP+ writers and performers. If you know of a writer/performer who has sexual themes in their work and who is also in one of these categories, please contact me to nominate them as a future feature.
FEBRUARY 28th, 5p (mst) FEATURED READER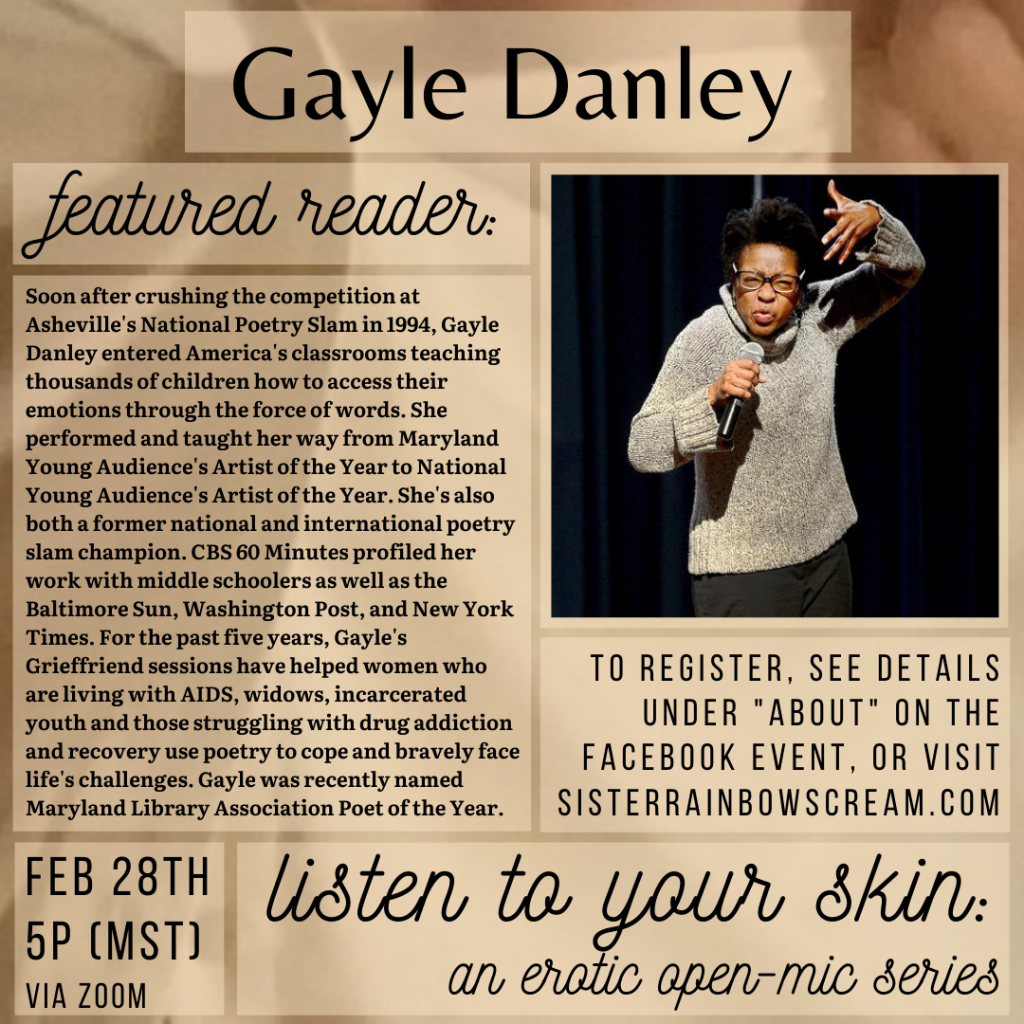 Soon after crushing the competition at Asheville's National Poetry Slam in 1994, Gayle Danley entered America's classrooms teaching thousands of children how to access their emotions through the force of words. She performed and taught her way from Maryland Young Audience's Artist of the Year to National Young Audience's Artist of the Year. She's also both a former national and international poetry slam champion. CBS 60 Minutes profiled her work with middle schoolers as well as the Baltimore Sun, Washington Post, and New York Times. For the past five years, Gayle's Grieffriend sessions have helped women who are living with AIDS, widows, incarcerated youth and those struggling with drug addiction and recovery use poetry to cope and bravely face life's challenges. Gayle was recently named Maryland Library Association Poet of the Year.
JANUARY 31st, 5p (mst) FEATURED READERS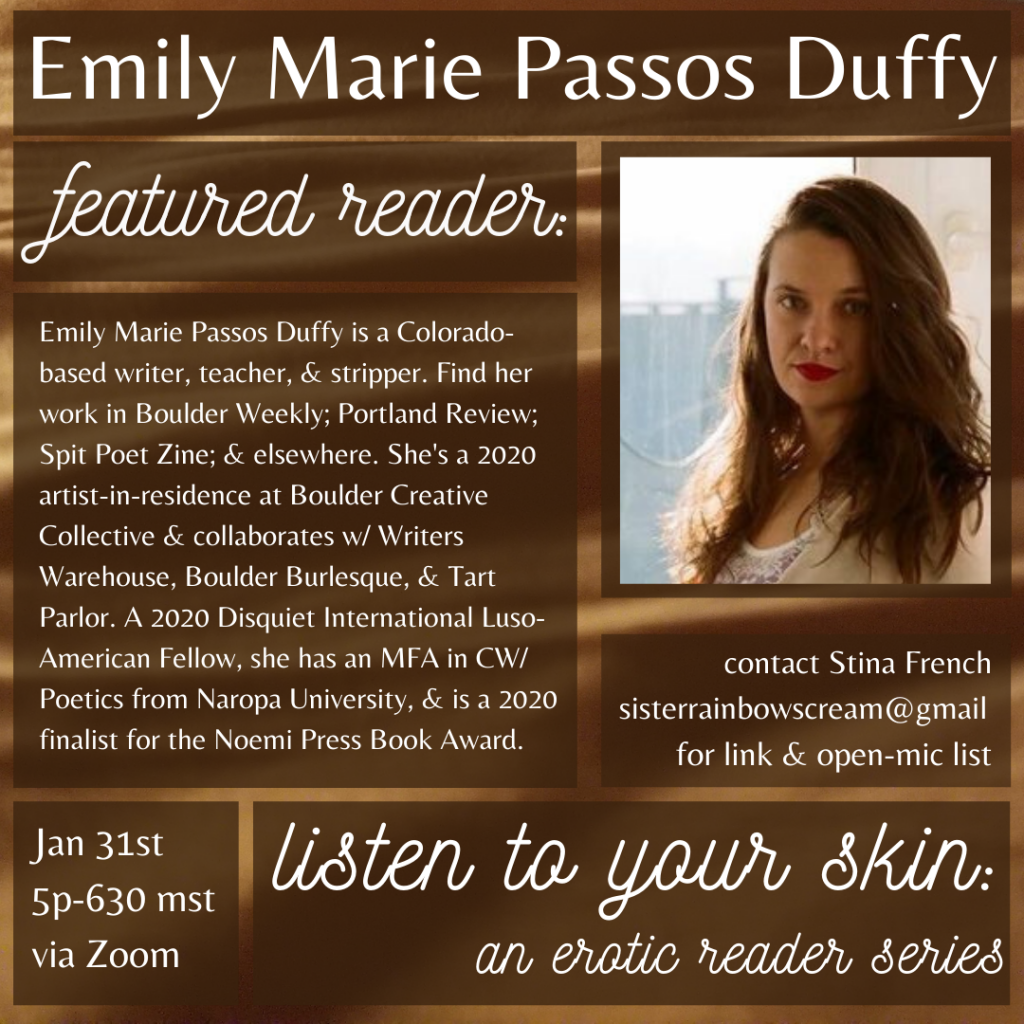 Emily Marie Passos Duffy is a Colorado-based writer, teacher, & stripper. Find her work in Boulder Weekly; Portland Review; Spit Poet Zine; & elsewhere. She's a 2020 artist-in-residence at Boulder Creative Collective & collaborates w/ Writers Warehouse, Boulder Burlesque, & Tart Parlor. A 2020 Disquiet International Luso-American Fellow, she has an MFA in CW/ Poetics from Naropa University, & is a 2020 finalist for the Noemi Press Book Award.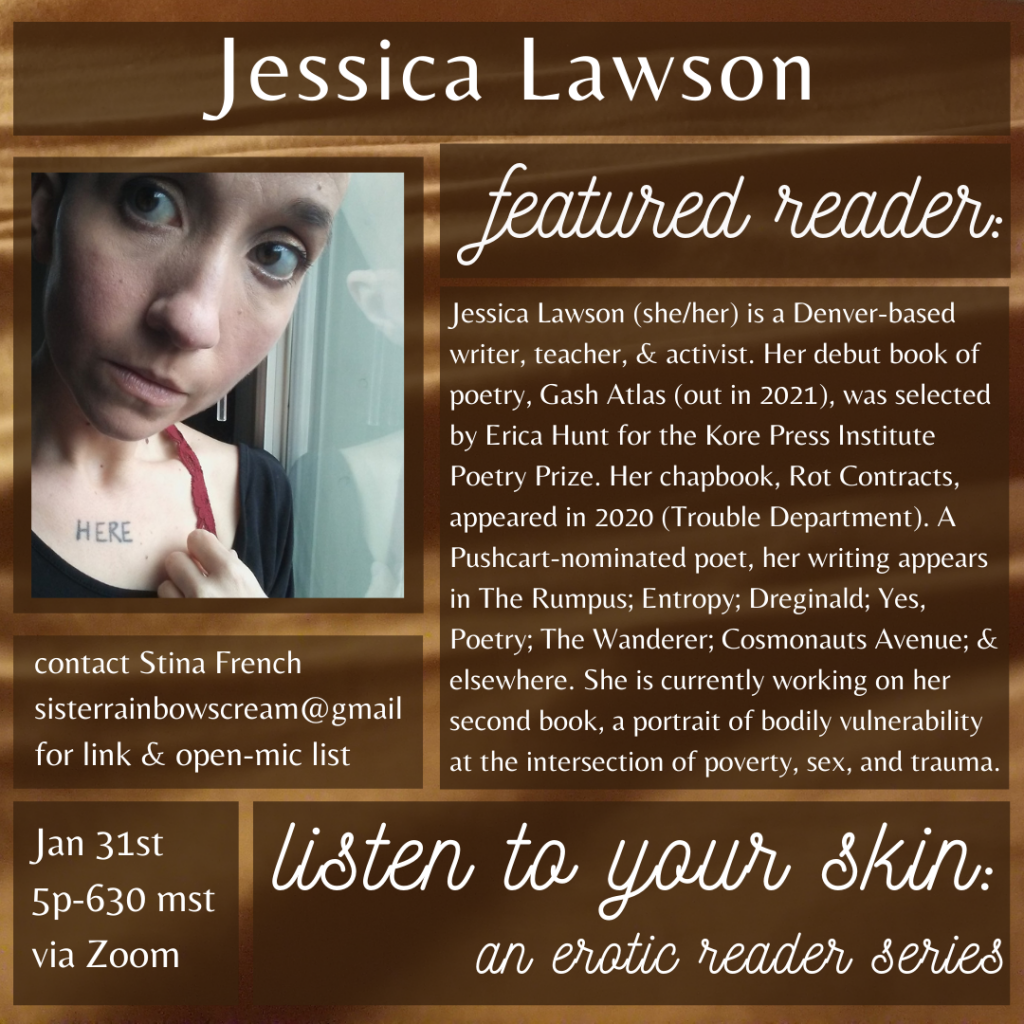 Jessica Lawson (she/her) is a Denver-based writer, teacher, & activist. Her debut book of poetry, Gash Atlas (out in 2021), was selected by Erica Hunt for the Kore Press Institute Poetry Prize. Her chapbook, Rot Contracts, appeared in 2020 (Trouble Department). A Pushcart-nominated poet, her writing appears in The Rumpus; Entropy; Dreginald; Yes, Poetry; The Wanderer; Cosmonauts Avenue; & elsewhere. She is currently working on her second book, a portrait of bodily vulnerability at the intersection of poverty, sex, and trauma.