listen to your skin: erotic reading & open-mic series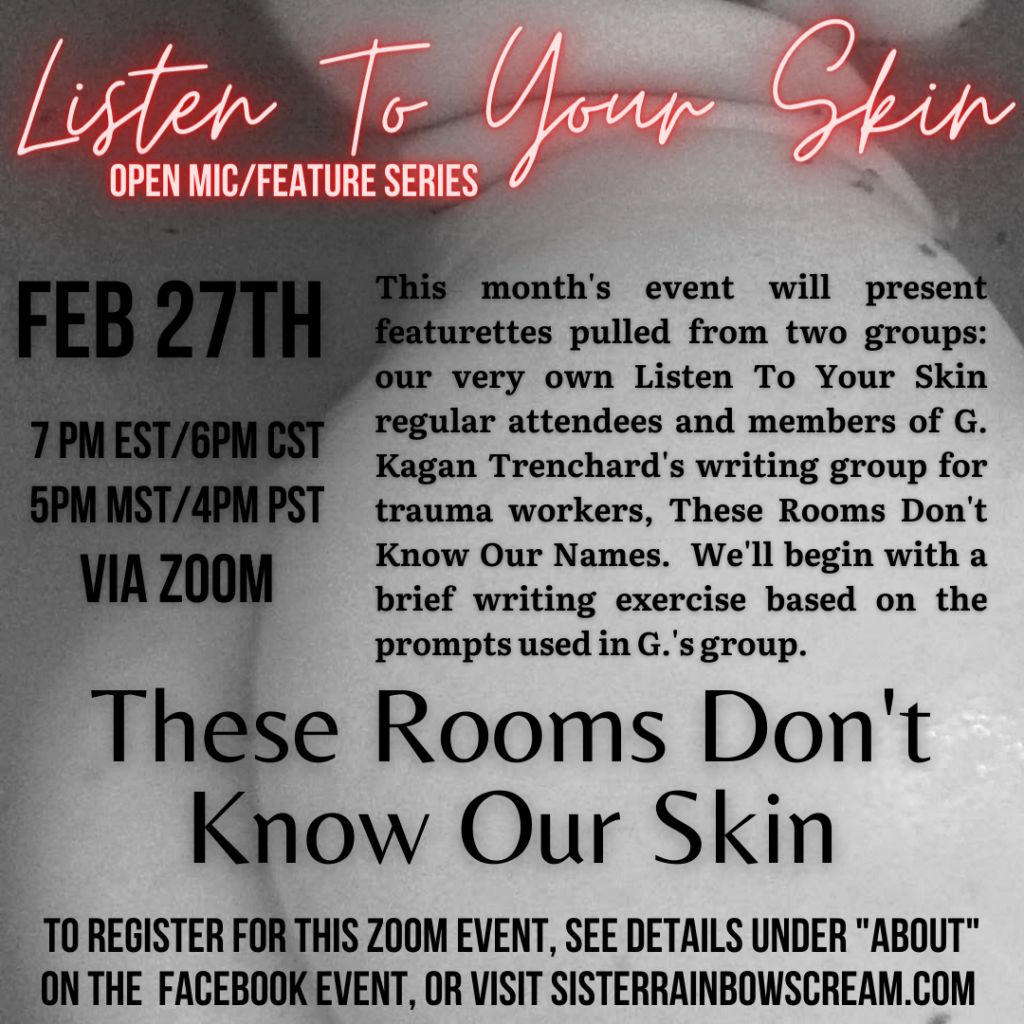 LITERARY EVENTS TOTALLY RULE, ESPECIALLY VIRTUAL ONES: I'm grateful for the way literary events in general have sustained, and helped launch, and always inspired me and my writer colleagues. During the pandemic, especially, I've been grateful for all the virtual literary events that have helped keep me sane and feeling connected. It feels like the world has shrunk, just a little, in terms of writer communities drawing close across many miles. In fact, I live in fear of my favorite events going back to in-person only. On that note, I pledge to keep the focus of this event virtual, even once Covid is a distant memory. This is not just because of my intense enjoyment of virtual gatherings. This is an accessibility issue, as well.
guidelines for participation: Visit this page for guidelines on what we want to hear and what we don't want to hear. I give these guidelines to help make this event a safe space for all participants.
HOW TO JOIN:
BEFORE YOU CONSIDER JOINING US: Read our very important event guidelines. Our intent is to create a safe space to be open for all participants, and toward that aim, there are some themes/approaches we just aren't interested in hearing. You will be booted from the Zoom meeting if you violate the guidelines of the event.
REGISTER to receive the Zoom event link by clicking here.
If you would like to read, SIGN UP to read on the open mic via Google Docs here.
NOTE: If you haven't registered, you will not be able to read on the open mic, even if you signed up inside this Google doc.
feature reader information: Visit this page for details of our featured readers! Each open mic will have 2 featured readers, performing for ~15 minutes each. On some special occasions, we will have one reader with a full 30-minute slot. Go here to watch video of the features who allowed recording of their set. We archive previous reader information, as well. Finally, you can also find out how to become a feature and/or propose a theme for the event on this page.
writing prompts: Visit this page for an archive of all our previous writing prompts. I offer more complex prompts as part of my workshops and retreats. These prompts focus more on craft and often have some embodiment or movement component.