guidelines for participation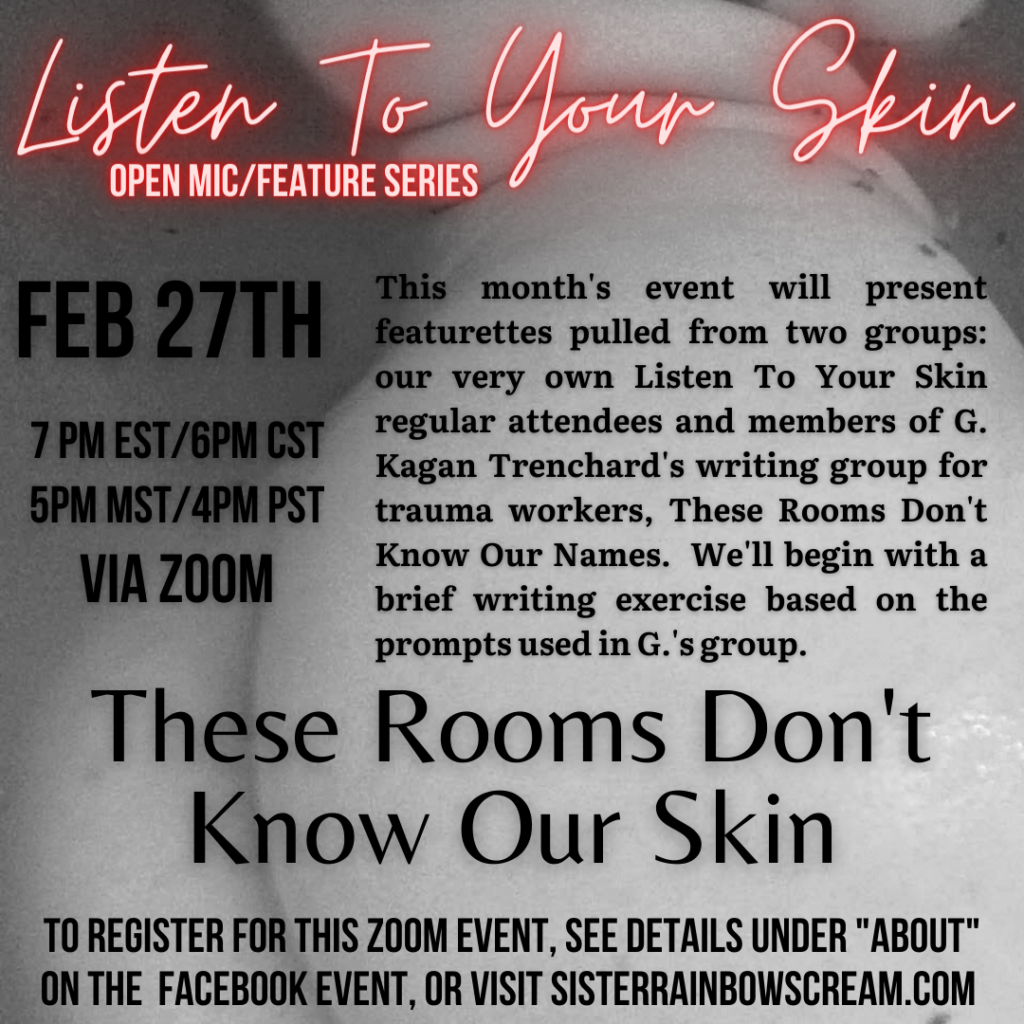 WHAT WE WANNA HEAR
Themes: The title says "erotic," but our focus is actually broader than that. We're especially interested in literate smut and lyrical writing that includes sex, not necessarily just the naughty bits without context.
We seek to explore all kinds of topics within the realm of human sexuality. From soft to smut. From self-sex to group sex. From tender relational dynamics to sex abuse. From orgasm to chronic pain's affect on arousal.
We love sex that is raw here. We love sex that is real. We love sex that is a small aspect of a work or sex placed at the center. We love sex-lit that contains "meta" elements, especially those that show some healing or empowerment or transformation of character.
Bring us sex that will make us wet or hard or curious. Bring us sex that will make us think or laugh or cry or go quiet.
Genre: As far as genre goes, we're happy genre sluts around here: bring us your poetry, lyrical prose, flash erotica, memoir, or hybrid works.
WHAT WE DON'T WANNA HEAR
Guidelines: I remind all participants of the following guidelines when I send the zoom link for the reading. I link to these guidelines during each reading. In brief, we are not interested in pieces that appropriate or fetishize marginalized identities or that glorify actual abuse of boundaries and power. With slightly more detail, we don't want to hear:
Non-trans folks/folks not involved with trans folks on an intimate level writing trans characters. In the words of a trans woman friend of mine, "If you're telling a story about the one time you had sex with a trans woman, DON'T."
Those without disabilities or folks not intimately involved with those with disabilities writing characters with disabilities. If you're telling a story about the one time you had sex with someone with a disability, DON'T.
Depictions of coercive/non-consent sex, where these depictions are eroticizing non-consent. Many people do fantasize about non-consent, and I'm not here to judge anyone's kinks, but this is not the place to share those fantasies, due to how much damage such sharing could do to so many of our attendees. There are other spaces on the internet where space has been made for this kind of expression.
That said, depictions of BDSM are welcome. Any stories with BDSM must contain explicit reference to characters or people involved giving clear consent.
Depictions of interracial sex/romance that play on tired and racist porn tropes like "jungle love" and fetishization of Asian women or black men, etc.
Content warnings: Always give appropriate content or trigger warnings before you read your pieces, as well.
HOW TO JOIN
BEFORE JOINING: Be sure you are comfortable with the guidelines above. Our intent is to create a safe space to be open for all participants, and toward that aim, there are some themes/approaches we just aren't interested in hearing. You will be booted from the Zoom meeting if you violate the guidelines of the event.
REGISTER to receive the Zoom event link by clicking here.
SIGN UP to read on the open mic via Google Docs here.
NOTE: If you haven't registered, you will not be able to read on the open mic, even if you signed up inside this Google doc.
WRITING PROMPTS
At each event, I will give a writing prompt based on next month's theme. I hope you enjoy these, but I also hope they'll encourage you to come back the following month and read what you came up with!